Tech-Prize's mission
– give great ideas a chance to be fulfilled.
This year Tech-Prize will help many ideas find fulfillment through over 20 free seminars and 4 competitive events with more than $80,000 in scholarships and prizes to budding entrepreneurs, according to Jeffrey Daniel, Co-Chair of Tech-Prize.
Webinars (called Biz-Shops and Tech-Shops – see sidebar) occur bi-weekly during the year, covering key topics that entrepreneurs need to know like protecting your idea, funding your business, finance fundamentals, and many more. Webinars are offered in both English and Spanish. You can see each webinar's specific event schedule and details at https://tech-prize.org/events/.
More than 20 exciting events are scheduled through the end of the year. Tech-Prize offers an outstanding schedule of competitions, education, and connector events planned across 6 different Tracs. Some of these Trac's are annual competitive events (App Competition, Idea Competition, Esports Competition, and Pitch Competition), others are ongoing educational forums specifically designed to help Entrepreneurs through the minefields of the startup world.
The Tech-Prize team would like to invite you to come and see these next exciting events – and perhaps even compete!  You can find more information and register at one of the links in the sidebar.
Idea, Pitch, Esports & App Dev Competitions Scheduled
The next upcoming events planned for September 9 – 17, 2022 in downtown Racine will include the following:
Follow the links in the list to register as a competitor for these events!
What are the objectives for doing this?
Tech-Prize is a group of local successful business people who love to help others find success.  Our mission is to help great ideas find fulfillment.  We do that through the following:
Create or find great Ideas
Enable a process, based on seasoned experience, that will launch those ideas right here in southeast Wisconsin
Enhance the skills required to make these things happen
Have a great time through the celebration of technologies and people
We work through a well-defined process we call the Tech-Prize Experience™, which has five basic steps and support structures that lead a person through the idea development and launch cycle. The mentors meet a person where they are in that process and then define the next steps required to achieve success. The correct solution is then applied to help the innovator. That could be education, assistance finding funding, a manufacturing or distribution relationship through the network, or a variety of other examples.
Where will it occur?  The next Tech-Prize event will be hosted throughout downtown Racine.  The event will bring entrepreneurs with ideas, investors that would like to launch those ideas, mentors, business, educators, civic leaders and non-profits together in the pursuit of "Making your individual idea reality".
Who can participate, and how?
Competitors – Tech-Prize invites anyone that has an idea that they would like to implement to compete.  That can be done through the Idea competition and the Pitch competition for the top 10 ideas ready for funding.  There is an additional "Codeathon" competition that is designed to solve Smart City Challenges, by challenging coding experts, while also providing an opportunity for those that want to learn about coding to participate.
General Attendees for Education or finding great ideas – If you are a person that wants to learn, come, see the ideas, attend the education sessions and participate in the voting.  If you are a person that needs ideas, come to sponsor, mentor and seek to invest in ideas.
General Attendees wanting to see great ideas and have fun – If you are curious about technology and like to have fun, come and see the great ideas, vote on your favorites, have some great food or beverage in the community and learn while you are at it.
Judging is based on You!   The "Ideas" will be hosted in downtown business and other locations.  Voting will be completed by the attending public.  Each of us attending is requested to vote on our favorite ideas.  The most votes will win the prizes and development opportunities detailed at Tech-Prize.org.  We need "You" to decide who has the best ideas and select the winners.
All event information, participation, competition rules, registration and all details can be found at https://tech-prize.org/events and is summarized as follows:
"The Tech-Prize process is designed to be that Loud, Proud, Fun engagement, that is so exciting that people cannot look away.  We cannot tell you how excited we are with the opportunities in front of us.  We look forward to seeing you there."
Tech-Prize 2022 Sponsors & Donors
We wish to thank our fabulous Sponsors & Donors without whom, Tech-Prize would not happen!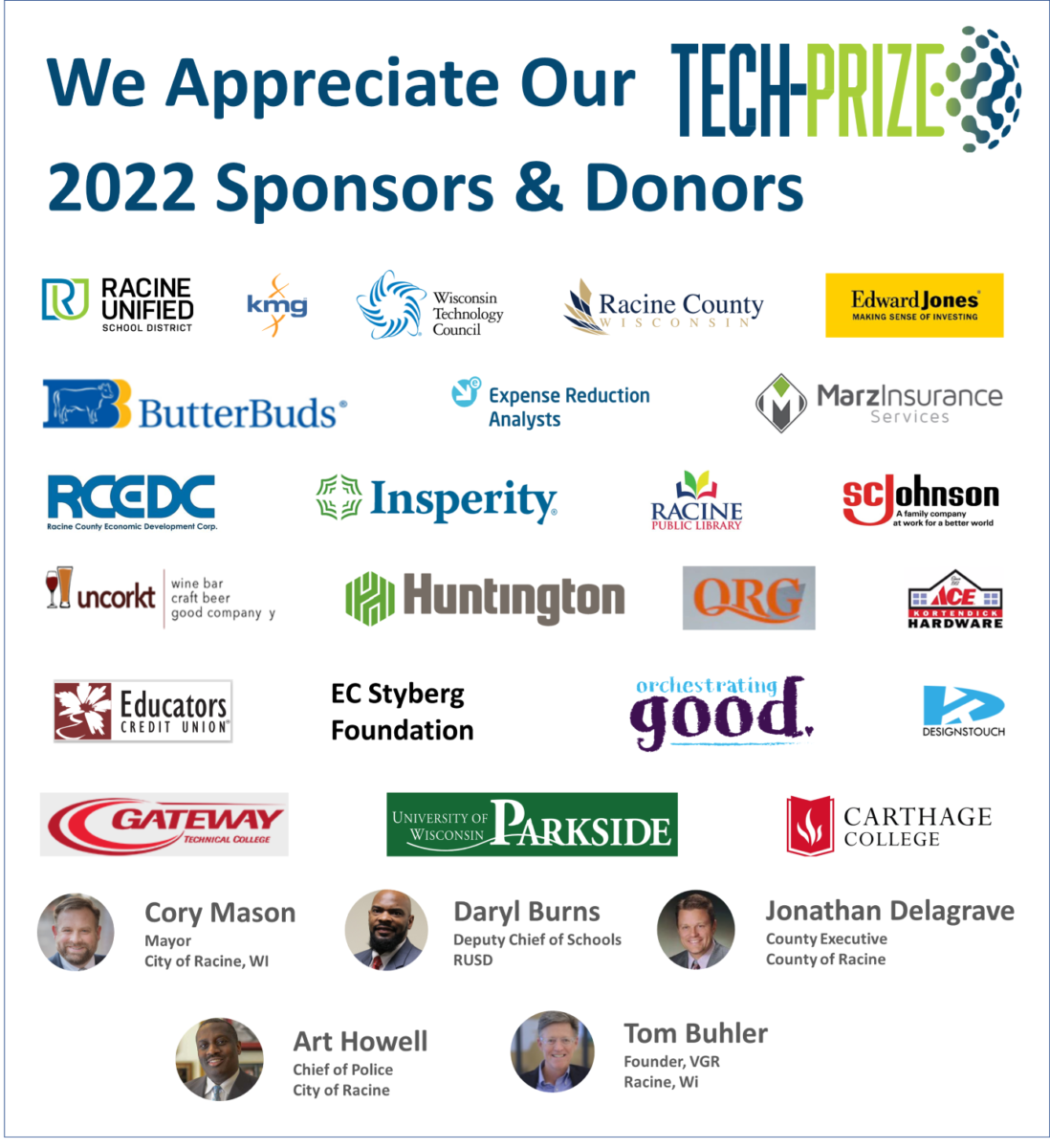 Click image to see larger version.
"The Tech-Prize competition has been an experience that taught me more than I could ever imagine by allowing me to fall forward…an environment like this is priceless."
Idea & Pitch Competition Participants
Idea Competition Information
Idea Competition Registration Is OPEN
Hurry! The registration for the
Idea Competition
is only until August 31st, 2022..
Pitch Competition Information
Pitch Competition Registration Is OPEN
Hurry! The registration for the
Pitch Competition
is only open until Aug 1st, 2022.
Application Development Information
Application Development Registration Is Open
The registration for the
App Dev Competition
is open now through Sep 8th, 2022.
Esports Registration Is Open
The registration for the
Esports Competition
is open now through Sep 8th, 2022.
Grow Your Entrepreneurial Skills!
Tech-Prize offers Tech-Shop & Biz-Shop webinars several times each month to share valuable knowledge that entrepreneurs need in order to mature their ideas and to prepare to pitch to Investors.  Showcasing topic experts from around the country, this amazing library grows every week and designed specifically for your needs as a budding or experienced entrepreneur!
Click the video below to see an example, visit our Past Events page to see more recorded sessions.
Tech-Prize's well-thought-out process
The Tech-Prize Experience(TM) brings the wisdom and in-the-trenches experience of dozens of successful entrepreneurs to help your idea find fulfillment. See the article for more details.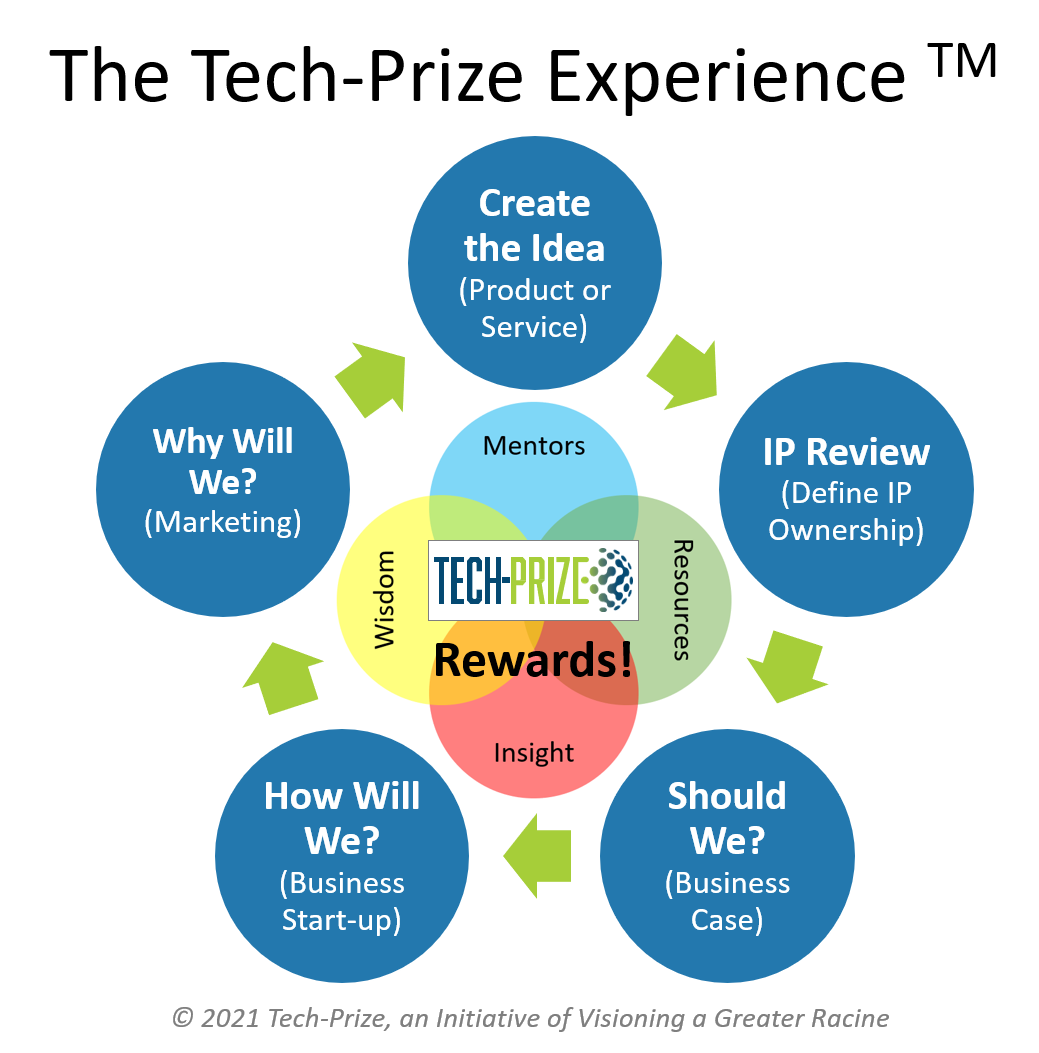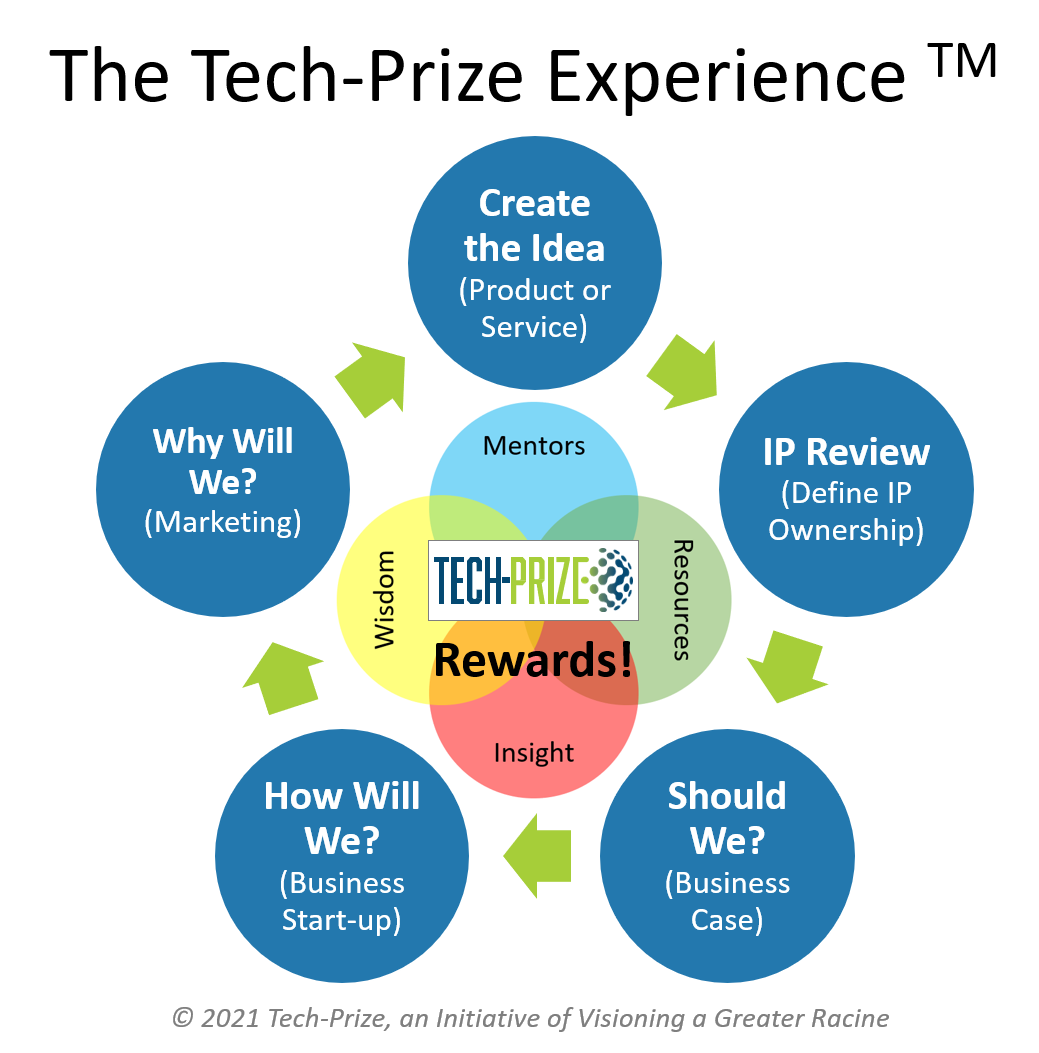 Click to see larger image