Rube Goldberg (1883-1970) was a Pulitzer-Prize-winning cartoonist known for his comical chain reaction "invention cartoons." (For an entertaining example, check out the two videos in the sidebar). You can learn more about Rube Goldberg and his ideas at www.rubegoldberg.org.
This years Tech-Prize Esports competition will ask competitors to participate in a new competition that encourages them to use Minecraft (any version) to come up with complicated machinery that accomplishes very little but in a humorous way. This is the first year that Tech-Prize and Gateway Technical College is bringing this competition. You can learn more about Gateway at www.tech-prize.org/gateway.
Throughout this competition, teams will compete by imagining, designing and building machines using the capabilities of Minecraft. We seek competitors of all ages to string together a series of designs to create a zany chain-reaction Rube Goldberg Machine and take away a great scholarship to Gateway College!
Tech-Prize and Gateway Technical College are providing free registration to enable as many competitors as possible to participate. The competition will work in 2 stages. 
Stage 1: Design & Construction will happen remotely with competitors using their own software and computers to build their machines. 
Stage 2: Top Submissions Presentation – Submissions will be reviewed and judged selecting the top 10 submissions to present their machines at Gateway college during the Tech-Prize competition at Party on the Pavement.  The final competition will be live and streamed via Facebook Live.
Note: This contest is not associated with Rube Goldberg, Inc.
Late Registration Closed
Stay Tuned for 2023 Contest Updates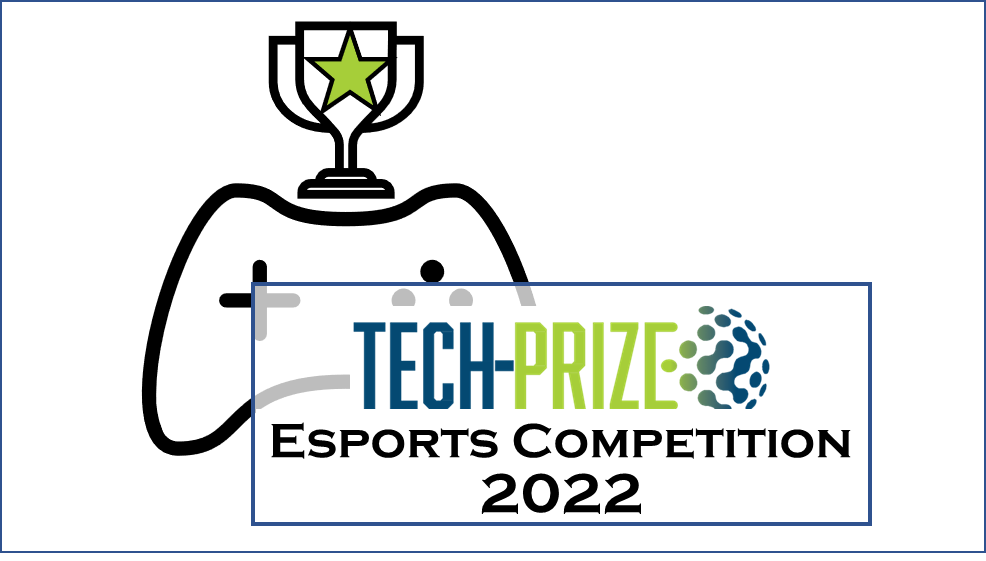 Classic Example of a Rube Goldberg Machine.
A Minecraft Rube Goldberg Machine.
Competition Rules and Guidelines
Participants will compete with machines that they have imagined, designed, and built-in any Minecraft Edition you may have (PC, Xbox, etc), and created in a fun and competitive forum. The competitions encourage teamwork and out-of-the-box problem solving, in a fresh learning environment and level playing field.
In this event, participants build a digital Rube Goldberg Machine in Minecraft that completes a simple task in the most fun and overly complicated way possible demonstrating their ability to collaboratively utilize engineering skills as they prepare for this year's challenge: Illuminate and fill a bathtub.
These rules govern the competitive play, contest eligibility, team management, and roster rules, player conduct, contest structure and schedule, and other binding terms. All Players, Adult Sponsors, and all other individuals participating must read and agree to these Rules before opting in for competitive play. The Participation Rules and Guidelines establish the set of standardized rules that will ensure fair gameplay and a level playing field among all teams throughout the competition.
Competitors may utilize any constructs that they can build within the standard Minecraft Creator Mode.
IMPORTANT: The only limitation is that the outcome of your design must illuminate and fill a bathtub.  Here's an idea on how to build and fill a bathtub.
Original ideas and wacky designs are the objectives!  We look forward to your creative ideas!
Participation Rules & Guidelines
Participants can come from any walk of life: Student, professional, minor, or adult.  All participants are encouraged
Register as a Competitor – Participants will register their interest to compete via the "Register Here" link on the Tech-Prize.org website (see blue Click to Register button). Participants can register up to 6 team members. Registration will be open through August 31st, and submission of your entry is due by September 9th, 2022.  Once you register, you will be contacted regarding how your submission will be completed.
Submissions –

Each team is responsible for making its submission to the competition (See Machine Specifications below).
Each team must submit a video of the machine running from start to finish with no interference (should be approximately 2 minutes long).
Machines must be filmed running twice, continuously, and successfully, without interference.
Each team must submit a video with a detailed explanation of the machine. This video can be up to 4 minutes in length.
Each team must include a written description with a detailed step-by-step list explaining which Minecraft device was used and how each component of the machine works.

Awarding Prizes – The competition prizes will be awarded on Saturday, September 17th, at 7:00 PM, on the stage in Monument Square. In the case of inclement weather, an alternate site will be designated
Judging Process – 

See Judging Criteria for details.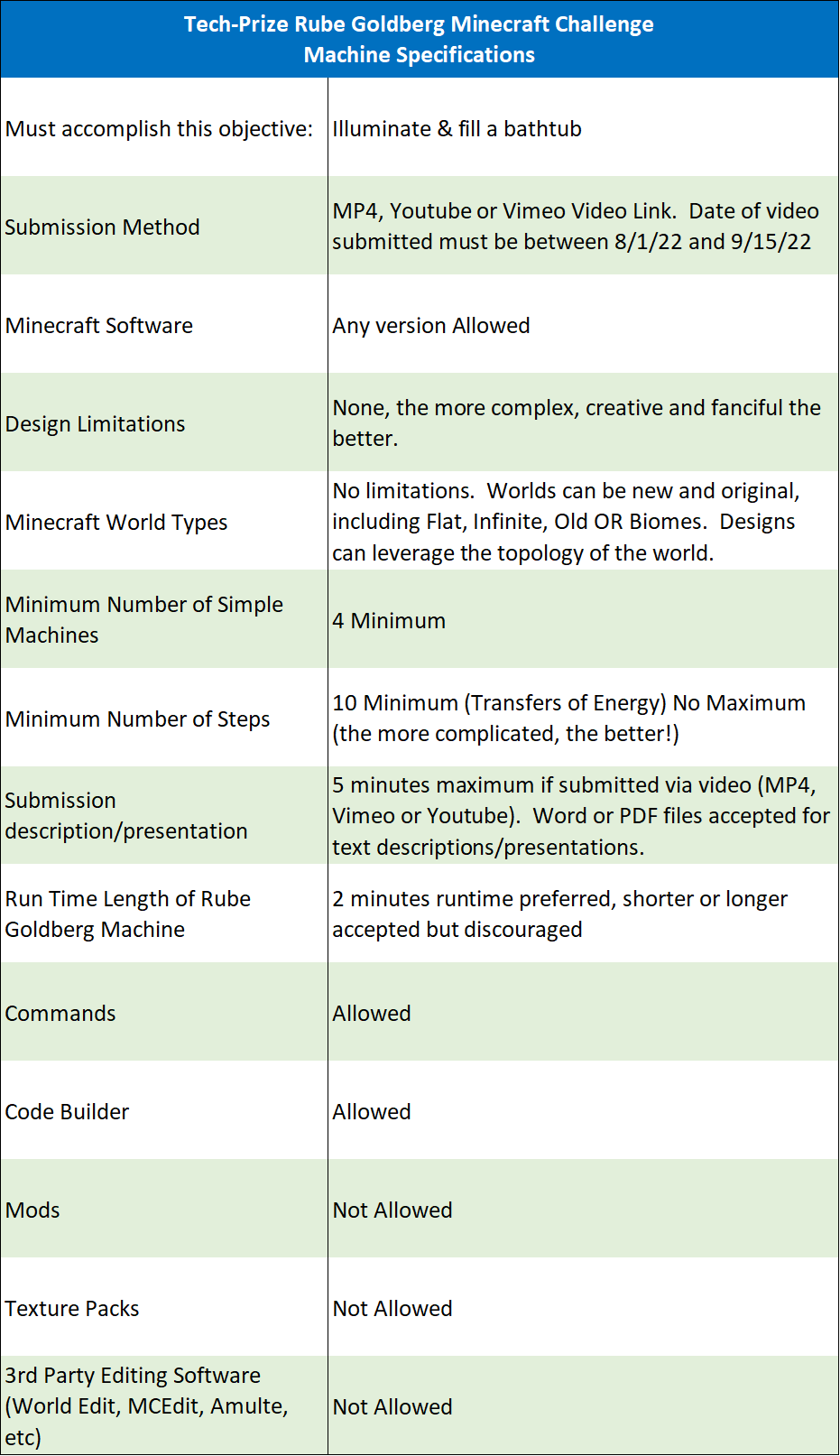 A group of industry, educational and innovation professionals will make up the Jury.  They will review each of the submissions during the judging period from the date of submission until the winners are announced at the end of The Party on the Pavement, Saturday 7:00 PM, September 17th.
Machines will be judged in four main categories. More detailed information will be distributed to competitors after they register.
Machine Design – Complexity, storyline, use of everyday items, aesthetics, and number of machine functions or steps.
Machine Run – The goal is to have the machine take exactly two minutes to complete tasks; high success rate over two or more live runs; accomplishes the goal of illuminating and filling a bathtub.
Teams – Teams are welcome to participate.  Prizes awarded will be split amongst the team members.
Penalties – Points will be taken off for machines or teams that do not follow the rules.
Prizes are awarded to each team as a group.  Each team can determine how the prize winnings are distributed in their team.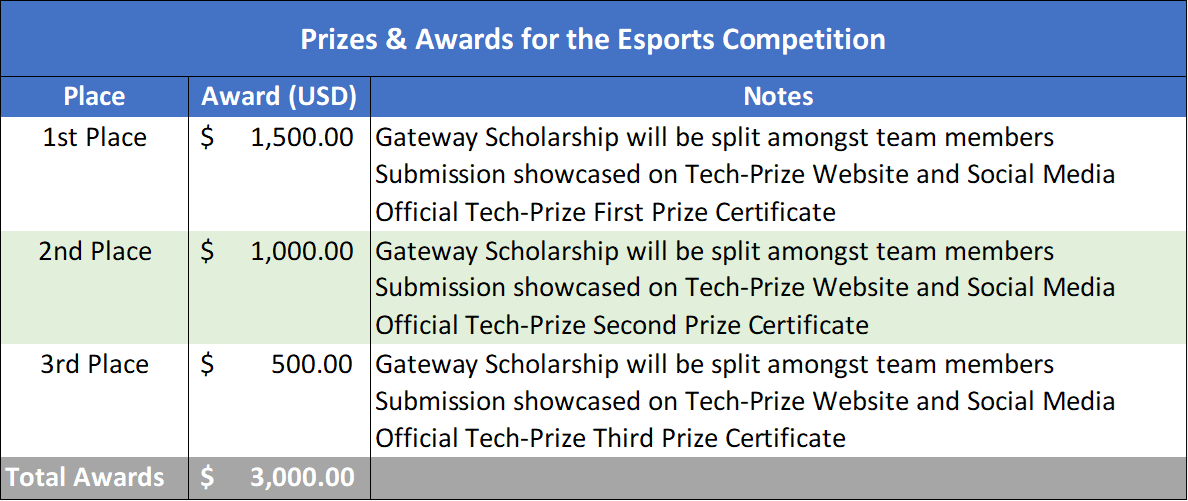 Click to see larger image
Click to see larger image