Over $80,000 in Cash Prizes & Scholarships!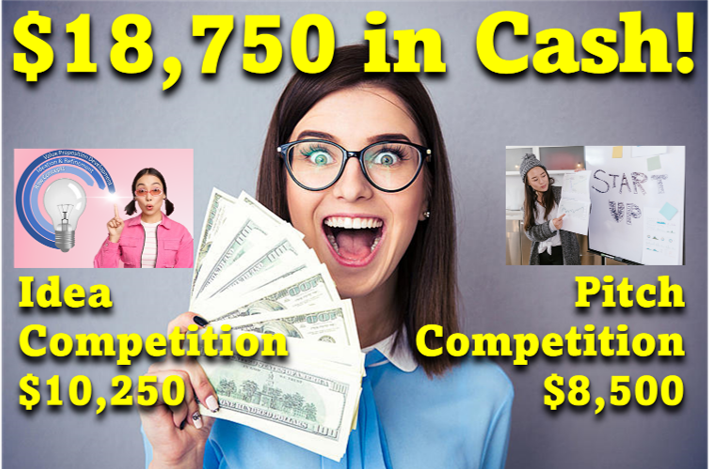 CASH PRIZES
The Idea & Pitch Competitions will have 3 judging divisions based on age.
Learn More about the Idea Competition Cash Awards:
Learn More about the Idea Competition Cash Awards: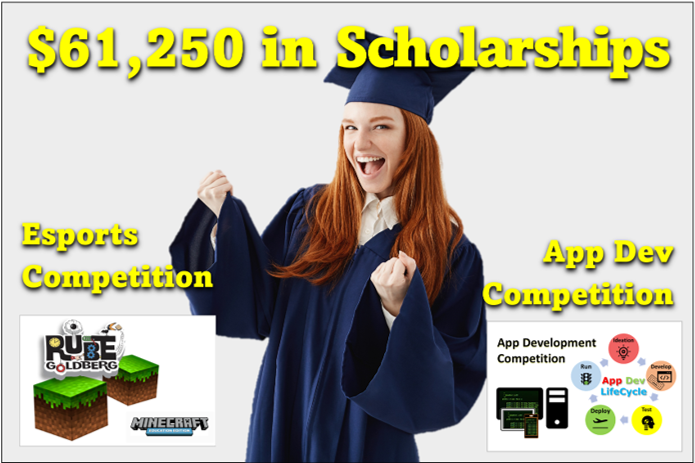 The Esports & Application Development Competitions will have 3 judging divisions based on age.
Learn More about the Esports Competition Scholarship Awards:
Learn More about the Application Development Competition Cash Awards: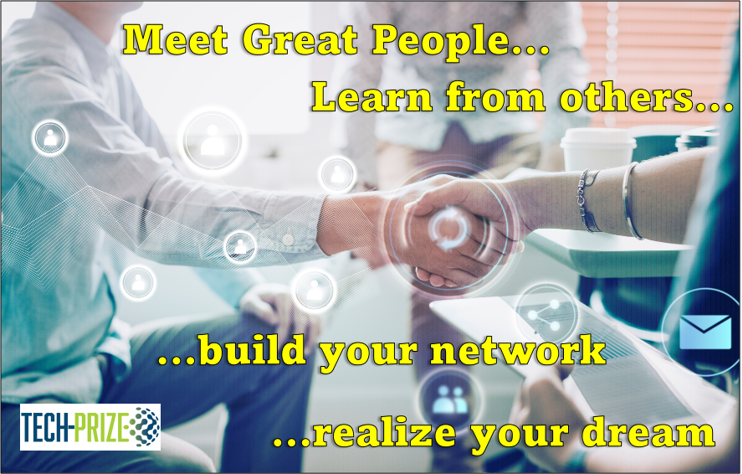 Access to resources, know-how and wisdom are pivotal to the success of startups.  All Entrepreneurs, even experienced ones, do not have every skillset, every resource or even exposure or access to all the funding they need.  That's why networking is such an important part of the Tech-Prize Experience.  The entire Tech-Prize program is purposed-designed to create connections with people, processes, and the provision necessary to develop, fund and launch your idea successfully.  
Meet the Tech-Prize Team!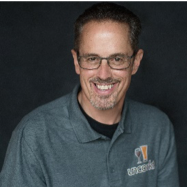 Tony BIGONIA-Owner uncorkt
Co-Chair – Tech-Prize
Tony is the sole proprietor of Uncorkt, a wine and craft beer store in downtown Racine, Wisconsin. Uncorkt has been a staple in downtown Racine for 15 years. He also owns real estate in Racine and is involved in various community organizations He is a member of the Board of Directors for the Downtown Racine Corporation and also Chairman of the VGR Thriving Economy WAVE Team and leads the governance team for Tech-Prize.
Tony is a veteran of the US Navy.  After leaving the service, he joined Digital Equipment Corporation as a computer service technician. While at Digital Tony completed a Bachelor of Science in Business Management.  Since then he has worked in Racine's Case Corporation as a computer programmer, manager of the Global I.T. Service Desk, etc. Later  Tony became a Project Manager and began independently consulting with multiple companies to improve their computer support organizations both internally and externally on a global scale.
Tony lives in Racine, Wisconsin with his fiancé and business partner Cheryl Braun.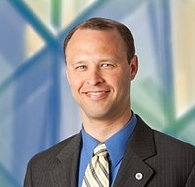 Jeff Daniel- President, Green Energy Startup
Co-Chair Tech-Prize
Jeff Daniel is a local entrepreneur,  starting multiple businesses in Wisconsin and globally.  Jeff had an extended career at Johnson Controls where his last two roles were Vice President of Global Operational Excellence, and Vice President of Global Procurement. After completing his Bachelor of Science in Plastics Engineering from Pittsburgh State University,  Jeff started his career with Prince Corporation/JCI in Holland, MI. Jeff gained experience through progressive leadership roles with the company including Advanced Manufacturing Engineering,  Product Development, Quality, Operations Leadership, and Procurement.
Jeff acts as one of the Tech-Prize leadership team members and was part  of the founding of the Tech-Prize process.
Jeff lives in Racine, Wisconsin with this wife Jewell.  They have two daughters, Holly Daniel and Kelly Ritzman, a son-in-law Tom Ritzman and a grandson Dawson Ritzman.

Jeffrey W. Hunter, SVP Field Service, Green Energy Startup
Idea Competition Lead, Team Mentor, Marketing Strategy/Technology & Website
Wanting to see people reach their full potential, Jeff's desire is to work together building the capability to do great things in the quest to better lives for everyone.
Growing business ideas is Jeff's passion leveraging his 35 years of experience across many industries, in both client & vendor companies including corporate and startup environments to create shareholder value.
Jeff's career spans progressive leadership roles in Application Development, Technology Implementation, Professional Services Delivery, Startups and Executive Leadership responsible for business planning, marketing, sales, professional services consulting practices and implementation.
Jeff's entrepreneurial experience includes startups in high-tech manufacturing, insurance, and renewable energy.
As a Mentor, Jeff helps teams utilize the resources of Tech-Prize to develop ideas into their fullest expression from ideation to pitch and investor discussions.  His team won 1st place in 2021.
Jeff is a Navy Veteran and lives in Pleasant Prairie, Wisconsin with his wife Elizabeth.  They have two sons and 6 grandchildren and our favorite experience is a 'sleep over' with pancakes in the morning!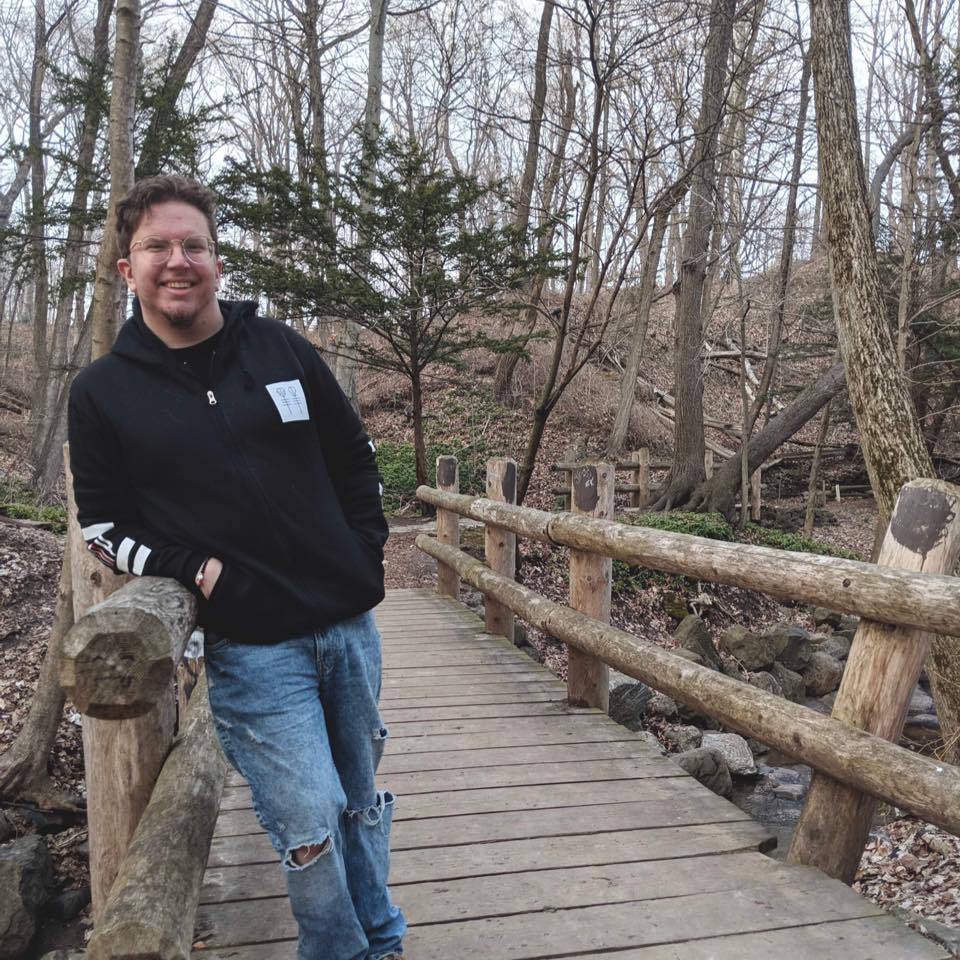 Justin Wheeler, Orchestrating Good
Creative Content, Special Consultant 
Justin Wheeler is an Edward R. Murrow Award-Winning journalist and film maker. Justin received his education at UW-Milwaukee, winning multiple regional & national awards for his investigative work on college campus safety and other stories.  He graduated in 2014 and founded Echo Eternal Media Group, a digital commercial and documentary production company.
In 2019, Justin helped to found the nonprofit organization Orchestrating Good, which focuses on working with NPO's to improve their operational efficiency, along with a wide variety of other efforts to support and recognize good and kindness in our community. In 2020, he became the director of media and creative projects within the organization.
Justin is a Racine native, graduating from Walden III High School. He sees Tech-Prize as a unique economic opportunity for his home town. "Tech-Prize has the potential to change Racine forever. We have a tremendous local history of invention. We can have a tremendous future in it as well if we invest in Industry 4.0 and our next generation's mastery of it."
Justin enjoys spending time in Milwaukee, Madison, and Chicago,  trying new foods and traveling with his wife, Allison.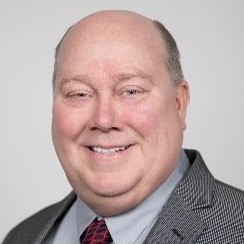 Ray Koukari, Jr -Dean of Academic Affairs for the SC Johnson iMET Center
Team Member & Panel Moderator
Ray Koukari, Jr is the Dean of Academic Affairs for the SC Johnson iMET Center and the Dean School of Manufacturing, Engineering, and Information Technology. Ray started his career at Gateway as an adjunct faculty member teaching IT courses. He became a full-time faculty member in August 2004,
teaching IT on the Racine campus. In January 2008 his accepted a position as Associate Dean of Business and IT. In July 2009, he was promoted to the Dean of Business and IT. In January 2018, Ray became the Dean School of Manufacturing, Engineering, and Information Technology. This new position was created to address the changes in the Manufacturing and arrival of Foxconn.
Prior to joining Gateway, Ray was the chair of the IT programs for the University of Phoenix, Waukesha Campus in Wisconsin as well as a faculty member teaching strategic planning at the graduate level for six years. He spent 25 years in the IT field working his way up from a computer keypunch, computer operator, network administrator, programmer, manager, director, and CIO.
Ray is a veteran who served in the United States Marine Corps for 6 years obtaining the rank of staff sergeant. Ray holds an MBA degree in Financial Controls from Regent University, which he earned in 1999.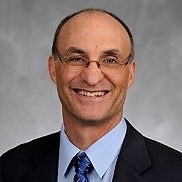 Dirk Baldwin – dean college of business uw-parkside
Team Member & Panel Moderator
Dirk is dean of the College of Business, Economics, and Computing at the University of Wisconsin-Parkside. UW-Parkside is AACSB accredited for its business programs. Dirk is active in AACSB, serving on accreditation visiting teams and as a beta tester for AACSB's accreditation software.
Dirk has a Ph.D. in Management Information Systems and has teaching experience in project management, process improvement, and statistics in addition to traditional MIS classes such as programming, database, and systems analysis.
He is chair of the Information Technology Practice Center (ITPC). The ITPC is a consortium of local CIO's and IT managers who provide feedback on student projects and explore IT issues. Dirk has published several journal articles related to MIS including articles on multiple view decision support systems, IT research methodology, and community-based learning. He has consulting experience in database development, web applications, simulation, project management, and IT planning. He has developed several software applications for large and small businesses, and he has written two books on MS Access. In 2004, Dirk was named a Wisconsin Idea Fellow by the UW System Board of Regents for his contributions to the community and state.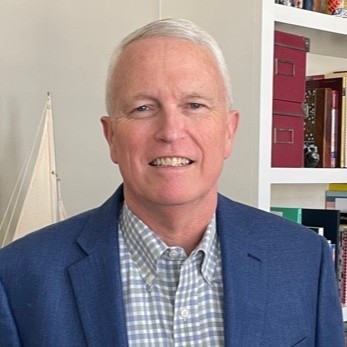 Dave Aumuller – Pitch Competition Lead
Team Member & Pitch Competition Lead
Dave is a results-driven senior-level leader with a long history of managing complex, high-risk projects from envisioning to value realization to successful completion, on time and within budget. A dynamic leader with a proven track record of building and guiding diverse teams toward actionable goals. Effective communicator with a unique ability to interface with a broad base of business users and stakeholders to influence at all levels to solve and deliver business value and solutions in a timely and cost-effective manner.
Areas of Expertise:
★ Management Reporting | ★ Supply Chain Technology | ★ Business Intelligence
★ Resource Allocation | ★ Technology Adoption | ★ Change Management
★ Strategic Planning ★ Strategic Thinking | ★ Process Automation
★ Risk Mitigation | ★ Cost Reductions | ★ Vendor Management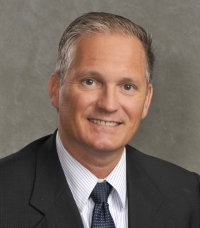 Scott Kortendick – Edward Jones
Team Member & Community Liaison
Scott is a Financial Advisor with Edward Jones helping people achieve what matters most to them whether it is Planning for and Enjoying a Comfortable Retirement, Paying for Education, Preparing for the Unexpected or Saving Money on Taxes.  Scott works with clients to  understand what is important to them by reviewing their individual goals.
Scott has 25+ years of Finance and Accounting experience leading teams, reporting & analyzing financial and operational results and managing large projects at both Fortune 500 public companies and at mid-sized privately held companies.
Scott's family also owns Kortendick Ace Hardware, where Scott serves as a board member.  Kortendick Ace Hardware has served Racine and surrounding communities since 1951.

Jim DeLong – App Competition Lead
Team Member & Mentor
Jim is an accomplished entrepreneur and a salesforce.com developer creating a Chat Bot Development kit.
Jim speaks on development concepts and gamification techniques.  He has competed at the Million Dollar Hackathon.  Other projects have included developing a crypto scheme to protect consumers & music artists.  Jim has worked with Intel creating DEAL (the Distributed Enterprise Architecture Lab) at Intel which lead to the development and implementation of Service Oriented Architectures (SOA), and SOAP (Simple Object Access Protocol).  Additional projects have included neural networks, expert systems, and artificial intelligence.

Arlene Martin- SBA lender Huntington Bank
Team Member
Arlene has been in the financial industry since 1988, ranging from Business Banking/Commercial Lending to Commercial Real Estate. As an SBA Lender with Huntington Bank, she knows that there is a great need for business owners to gain access to capital. It is most often a critical component to the success of businesses during start-up and growth periods.
Arlene enjoys working with a range of businesses with gross revenues and is very well versed in federal loan programs (SBA Lending) and the state lending programs that are very advantageous for business owners. In addition, she has a strong background in commercial real estate. I believe in supporting the entrepreneurial business owners that have emerged and now become the backbone of our country.
Her specialties include small to mid-size businesses, and she focuses on a variety of industries including manufacturers, service industries, franchise operations, as well as contractors.
Sponsorship's Make
Tech-Prize Happen!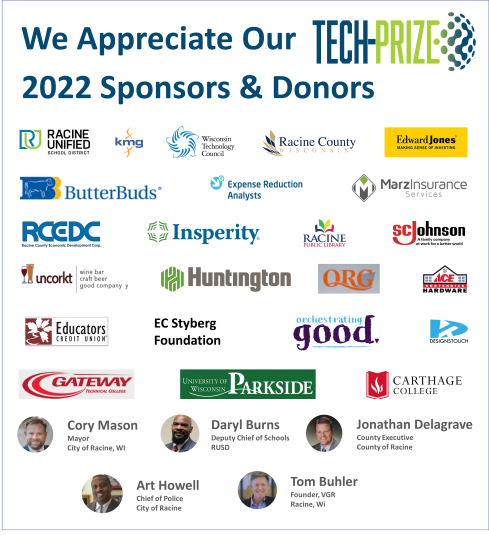 A Big THANK YOU to our Sponsors!
Tech-Prize couldn't happen without the Sponsorship of companies, individuals and community leaders who care.  Learn more about sponsorship!
Host a Competitor, Increase Traffic!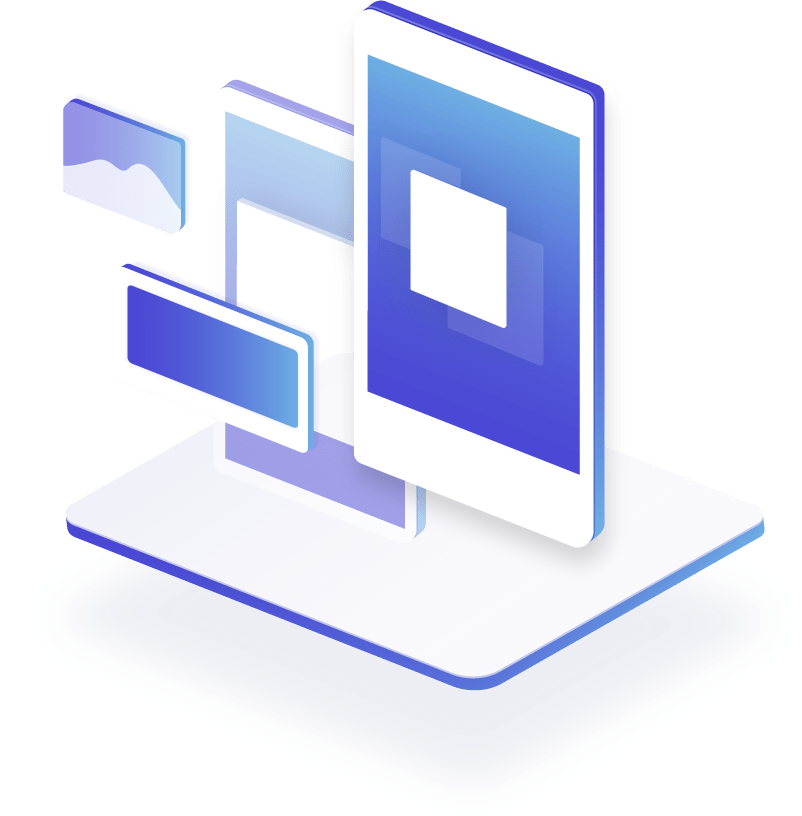 Be a Host
Hosted In The Birthplace of American Innovation
Tech-Prize attracts thousands of visitors to Downtown Racine, Wi to take part in an exciting display of next generation ideas. Inventors will display designs from every technological discipline in our store fronts, restaurants, bars, coffee shops, police station, library, museum and more. Racine once held more patents per capita than anywhere in the world. So we're paying homage to that innovative past while looking forward to the bright future being created here.
How does it work? There is no limit on how many exhibits a business can host. A small exhibit may need just a table space, while others may require more elaborate space. Please fill this form and your information will be electronically matched with potential exhibitors best fitted for your location.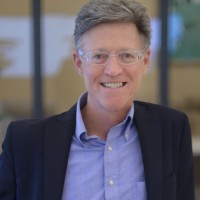 "City of Racine is ready to host  Tech-Prize"
I am excited to see that the Thriving Economy Wave team is working on Ambitious and Grand Initiatives like TECH-PRIZE that will kick-start the growth of our community in multiple dimensions such as commerce, trade, and tourism while providing a platform for intellectual growth through technology competition."
Tom Buhler, founder VGR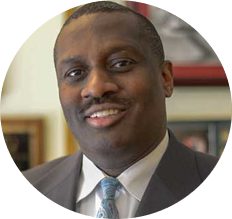 "My team is excited to welcome innovators and technologists during Tech Prize."
We have a safe, friendly and inviting lakefront community with a rich history and diverse culture. Come for exploring new technology and innovation, as well as our great food, fun attractions, and community amenities. Our team of peace officers will be on hand to promote a safe and secure environment and memorable experience during your stay. 
Art Howell, chief of police (Retired)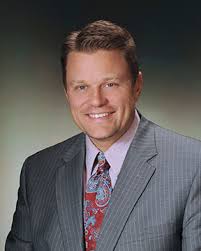 "TECH-PRIZE to carry the tradition of  the leadership in Innovation and Industry"
"For virtually our entire history, Racine County has been a leader in innovation and industry. We recognize the potential of Tech-Prize to help carry on this tradition, and we hope students become involved and inspired."
Jonathan Delagrave, Racine County Executive