Coding teams will have two full days to complete their project and present it to the competition judges.  The teams will be assigned a Racine SMART City initiative as the project to develop.  This coding event will offer talented programmers the opportunity to measure their capabilities and to compare themselves to other programmers, while also introducing people wanting to learn coding to the process and methods.
Quick summary of the event:
Date:  Friday, September 10th through Saturday, September 11th
Time:  9/10 – 9:00 AM to 9:00 PM, 9/11 – 9:00 AM to 1:00 PM, final presentations 9/11, Michigan Room from 1:00 PM to 3:00 PM.
What to bring: Your laptop, creativity, know-how, and a lot of coffee & power bars!
Location: Gateway Technical College, Racine Lakeshore Campus, IT Center of Excellence, 3rd Floor Technical Building, 1001 Main St, Racine.
Scroll down to see more detailed information about the competition.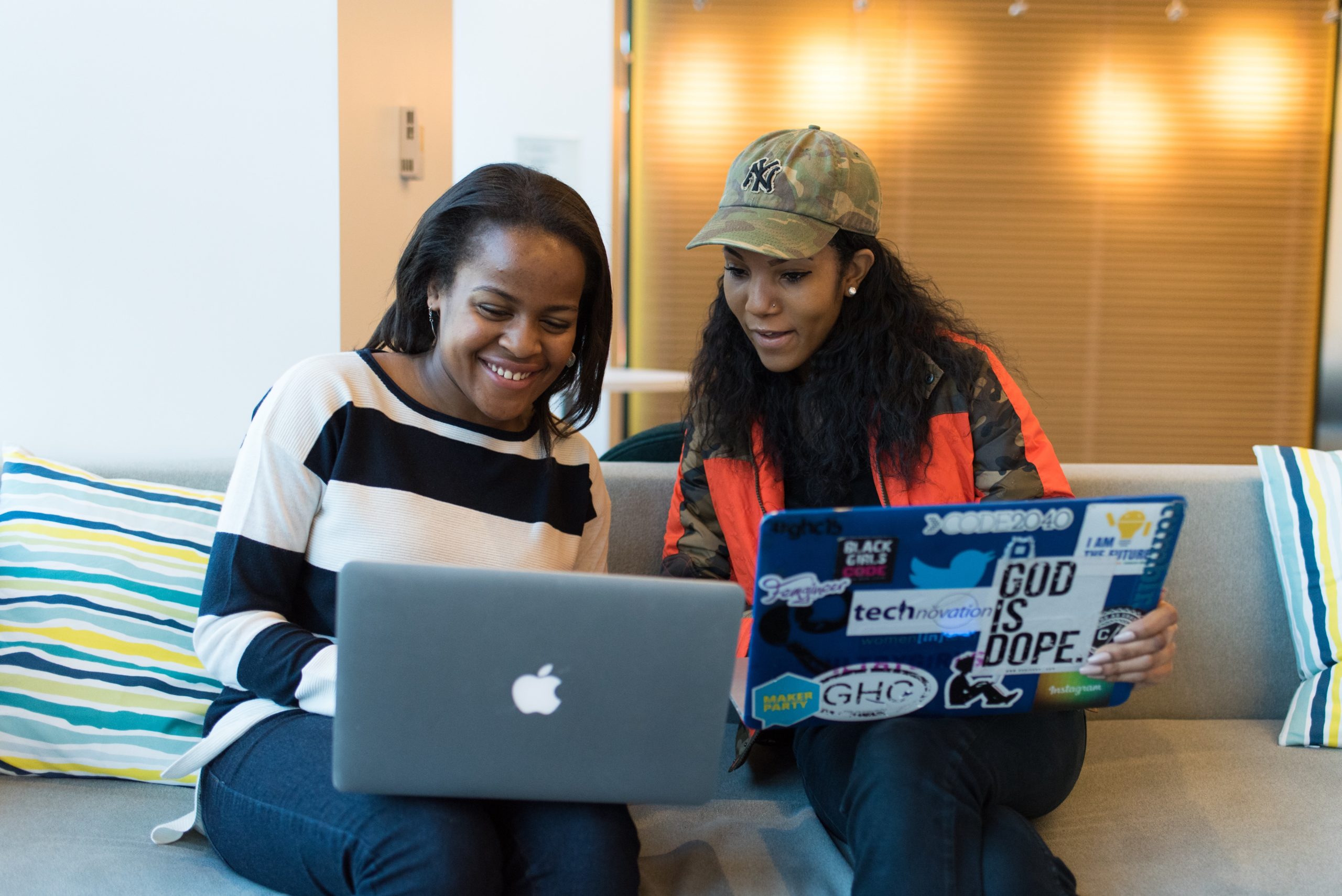 Competition Rules and Guidelines
Why are we doing this?
All the data in the world in 1990 fit inside of a physical space of two (2) marbles.  All the data in 2020 fit inside of thirty (30) basketballs, all data in 2025 is projected to require one hundred and fifty (150) basketballs of space.
The Tech-Prize team desires to recognize how the world is transforming and establish a community-based process that provides the knowledge, skills, motivation, and jobs to make Racine and our region the coding "Silicon Valley " of the Midwest.  Jobs in coding range from $50k/yr to $150k/yr.  Let's get those skills in our community
The coding competition also seeks to bring our community together to teach these skills and solve the problems we need to solve.  We would ask that anyone who has this interest in coding come and participate. 
Let's get the best coders in our community engaged and learning from each other, sharing their skills and ideas with people that are just starting, create some great applications for our community, win scholarships and recognition and overall have a great time.
The Focus of the Coding Competition
This competition is about pure unadulterated skill and prowess in application development.  It is designed to utilize all the skills required to develop a functional and useful application.  From analysis to design to coding, it covers the full range of skills.
Each team will be competing against the exact same criteria.  The specifics of the coding challenge will be handed to the teams at the launch of the competition.  The scenario will address a real-life example of an identified need for consumers interacting with the Public Works department application.  Hereon referred to as the "C2PW Application".  Think about it, we see a pothole, who reports it?  No one does, as we don't have the time, and or know how to report it.  A streetlight no longer works, and you rely on it, who do you call?  These are just two (2) examples of what such an application would do.  On the day of the competition, we will put into a hat all of the ideas that are generated by the SMART city of Racine and create a solution that will solve these problems.
You get the opportunity to craft something amazing, show off your skills and win some prizes.  The community benefits from great ideas and an application that helps the community in some useful way.  Everyone wins!
Coding Competition Initiatives to be solved
This coding event will focus on SMART City initiatives which include:
Uses of 5G technology
Sustainability – such as reduction in food waste, reduction of freshwater usage, reduction of pollution.
Transportation – connected services, ie. scooters, buses, train, Uber.
SMART City Services locators: parks, restaurants, walking paths, beaches, fishing, sailing, potholes, broken parking meters, lights, etc.
Open Category for other SMART city initiatives.
What can I win by participating? 
Besides connecting to the Coding community, educators, people that want to learn together and get better, people hiring coders, learning great methods from other coders, being introduced to coding and learning how to code, and finally – simply have a great time.  You can actually earn prize money and scholarships.  See the grahic below for details.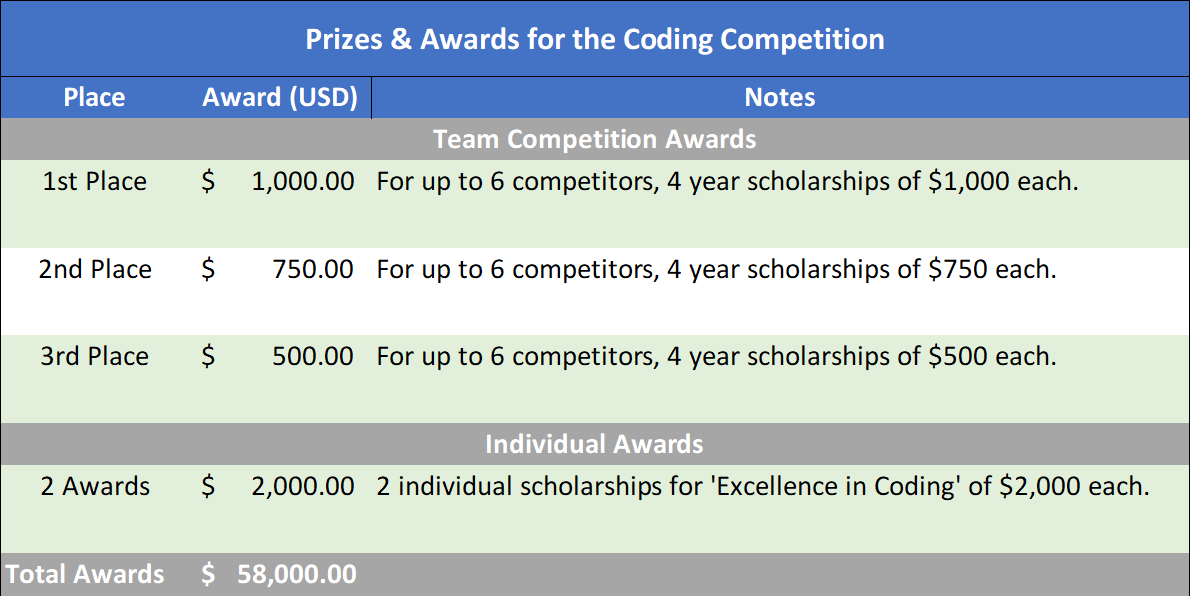 Click image to see larger image.
Where will the competition occur? 
Gateway Technical College has offered to volunteer at the IT Center of Excellence located on the Racine campus from 9 AM on Friday to 9 PM and 9 AM on Saturday until 1 PM, September 10th and 11th.  Gateway, UW-Parkside, and Carthage faculty and students will be participating and provide expertise in the areas that support this event.
Who will participate?  
Participants can come from any walk of life: Student, professional, minor, or adult.  All ideas and participants are encouraged.  The competition is designed to include several groups.
Competitors – The event is open to all age groups, all members will be placed at random into teams. All members must be registered.  For those under the age of 18, they must have a parental release to participate.
Experts on-hand –  A diverse team from all business and educational areas supporting: Mechanical, Advanced Manufacturing, Web and Software developers, CSS instructors, Cybersecurity instructors will be on-hand for the competition for competitors in their process of developing the app.
Support Teams – Support teams on-site will include resources from Gateway, Uw-Parkside, UWM, Carthage College, and other partners faculty members in Advanced Manufacturing and Mechanical/Electrical Engineering.
How does the competition work for 2021?
IMPORTANT!  This event is designed to be collaborative, so there are a lot of resources involved.
Design Teams: Each breakout room will work to establish what the C2PW Application solution could be in each release. These teams will then develop the releases for each of the approved ideas. We will have the expertise available in person or via Zoom for the teams. These teams will interface with the coding teams to help identify phases of the work, what will be in the initial release, 2nd release, 3rd release, etc.
While this is going on the coding teams will be developing mockup screens to support the C2PW Application. These coding teams will be broken down into screen design, application design, and database design for each of the Design Teams.
The goal is to complete the initial release of the C2PW Application by Saturday at 1 PM. The teams will work through the day on Friday to accomplish this, then on Saturday, the Design teams will work on a 15-minute presentation of what they accomplished, what is needed in resources, and what solution it would provide for a SMART city. Judging criteria are listed in the Judging Criteria graphic below.
Saturday at 1:00 PM presentations would start on the Racine Campus, in the Michigan Room with Judges in the front 2 isles of the meeting room. The judging is expected to last up to 2 hours. Approximately 6-9 teams during that time.
Code-a-Thon Judging – Detailed Criteria for 2021:
Judging for the Code-a-Thon uses these criteria: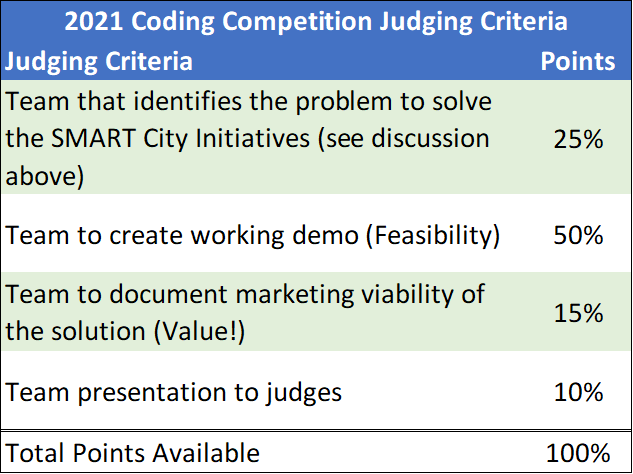 Click image to see larger image.
Competition Process
Competition pre-registration is open July 1 through September 9th (see Register Now button below)
Event Day site registration is open from 7 to 9 am on September 10th at the Gateway Technical College, IT Center of Excellence, Technical Building, 3rd Floor, 1001 Main Street Racine, WI
This is a 16-hour competition that will run from 9:00 AM to 9:00 PM, September 10th, and 9:00 AM to 1:00 PM on September 11th, 2021.
Competitors will be able to utilize gaming systems located on the floor to relax during breaks.
Presentation and judging will occur at Gateway's Conference Center on September 10th, starting at 1:00 PM. Awards will be presented upon completion.  We would like all award winners to come to the awards ceremony on Saturday, September 18th, 7:00 PM, on the Monument Square Main Stage
Tools for Coding Competition
All apps developed will be hosted on the Tech-Prize.org website when complete for public viewing and use.
The following apps are supported Apps for development:
Gamesalad 
Microsoft Power Apps (O365)
WordPress, Drupal
MIT Appinventor – Plug and play easy
Ionic Framework require knowledge of JS high capability medium skills
Gateway Technical College is providing 12 stations in 5 classrooms (60 computers) and software for teams to use and an additional 3 classrooms for 12 to bring their own computer.
Competitors may bring their own hardware and software.
Instructors and students from Gateway, Carthage, UW-Parkside, UW-Milwaukee will be present to assist throughout the process.
Mentors and coaches are welcome to participate throughout the competition (those present are encouraged to help all competitors).
Participation Rules and Guidelines
Code of conduct will apply to all participants.
Any participant under the age of 18 must have a signed parental consent with emergency release at the time of competition.
All intellectual property built during the competition will be hosted on Tech-Prize.org for use by the community. We are coming together to create solutions for a SMART city around coding.  Our goal is to create energy and motivation around coding skills and SMART city solutions for our community.
Following that objective, all participants agree to release a copy of the intellectual property to the City of Racine for their internal use only.  Participants retain ownership of their code developed for the competition – please see the pitch competition for the next steps! 😉
Registration is Open Now
The registration for the Coding Competition is Closed.  See you next time!
Grow Your Entrepreneurial Skills!
Tech-Prize offers Tech-Shop & Biz-Shop webinars several times each month to share valuable knowledge that entrepreneurs need in order to mature their ideas and to prepare to pitch to Investors.  Showcasing topic experts from around the country, this amazing library grows every week and designed specifically for your needs as a budding or experienced entrepreneur!
Click the video below to see an example, visit our Past Events page to see more recorded sessions.
"The Tech-Prize competition has been an experience that taught me more than I could ever imagine by allowing me to fall forward…an environment like this is priceless."
Idea & Pitch Competition Participants
Tech-Prize 2021 will have Five Trac's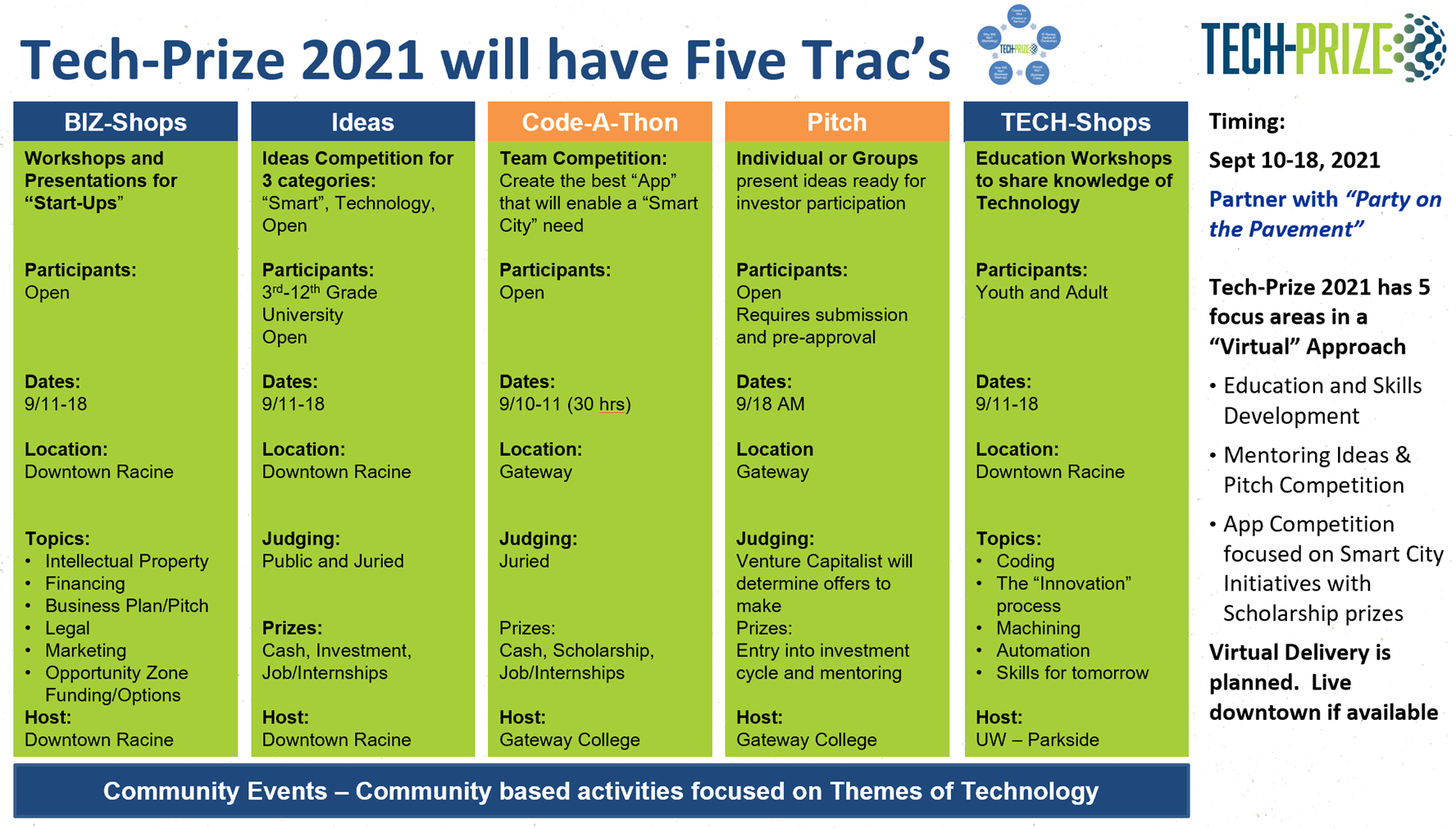 Click image to see larger version.
Tech-Prize's well-thought-out process
The Tech-Prize Experience(TM) brings the wisdom and in-the-trenches experience of dozens of successful entrepreneurs to help your idea find fulfillment. See the article for more details.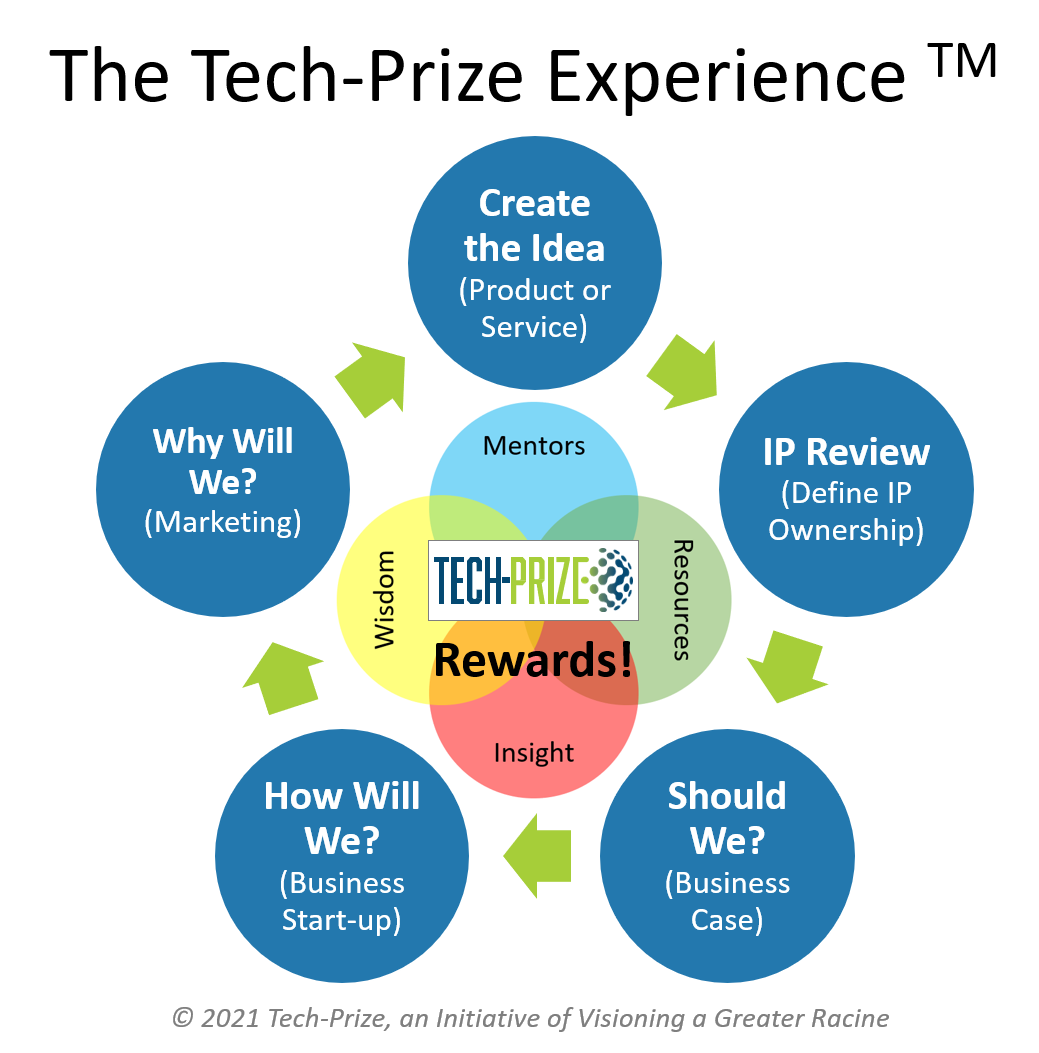 Click image to see larger version.
Tech-Prize 2020 Sponsors & Donors
We wish to thank our fabulous Sponsors & Donors without whom, Tech-Prize would not happen!
Click image to see larger image.
Registration is Open Now
The registration for the Coding Competition is open now through September 9th, 2021. Click the button below for the online form.
Teams can be in any of these categories: middle school, high school, college/university, or professionals.  All will have the opportunity to win cash awards, all will be recognized for their effort. 
Registration is Open Now
The registration for the Coding Competition is closed.  See you next time!