The Tech-Prize team acknowledges the value that individuals contribute towards our objective to bring innovation, mentoring, education, and growth to our community.  Tech-Prize would not be able to complete its mission without their help.  Thank You!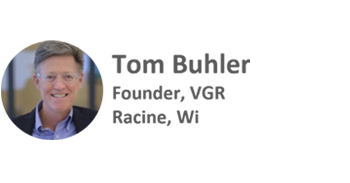 Tom Buhler has a passion for the power of diverse individuals working as a team.  As VGR's first board president, his goal was to hear from as many and as wide a variety of Racine folk as possible.  Over 1,300 citizens voiced their aspirations in listening sessions held throughout the eastern half of Racine County.  During his 30-year career at Butter Buds Inc., a manufacturer of proprietary food ingredients, Tom has served in various roles, and is currently the company's Chief Community Affairs Officer.  Along with his involvement in VGR, Tom tutors third graders in reading through the United Way's Schools of Hope program, and has taught mindfulness to inmates at the Racine Youth Offenders Correctional facility.
Tom is married to Marcia Buhler and has four grown children.  Tom was born in Racine, has spent most of his 63-years here, and feels a deep affection for Racine's friendly, diverse, and resilient culture.