The Workshop Details
Did you miss this event? Watch the recording here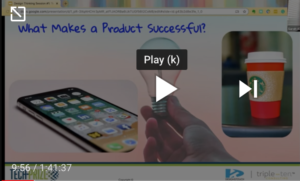 Attend Part 3 and Final session
Design Thinking Part 3 – Prototype & Test
In the first workshop, we learned how to define a problem by using Empathy.  In this one, we will develop many ideas for solving the problem using the Design Thinking Methodology. This is part 2 of 3 workshops. You will learn how to evolve your idea to connect with your audience.
Sarah Alt
President, Triple Ten Consulting
Sarah Alt is a professional learning facilitator, business coach and experience strategist. She has honed her expertise over 20 years of technology and business roles in for profit, nonprofit, k-12 and higher education organizations. Sarah has helped organizations transform, adapt and evolve their teams, customers, clients and patients for success. Sarah is the founder and owner of Triple Ten Consulting, holds an MBA in Global Management, and is professionally certified in project management, Lean, Six Sigma, supply chain, change management and inclusion. Sarah is also an adjunct university professor and servant leadership practitioner.