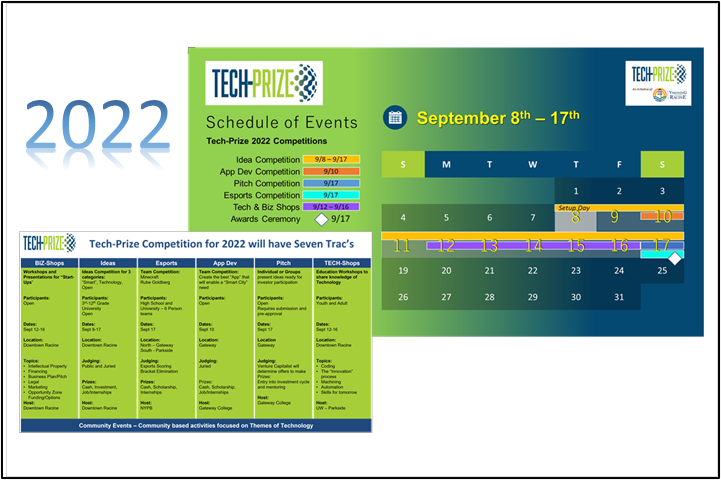 Tech-Prize 2022 Events – Preliminary Competitions & Engagements
Calling all Entrepreneurs!
The Tech-Prize 2022 Season is now accepting applications for all our competitions. This is an opportunity for those interested in creating, encouraging, and implementing innovation to come together with individuals like yourself. By pulling together the innovation community, we make connections, we help each other, and we make things happen.
Date: April 1st thru August 1st 2022
Location: Come visit the Tech-Prize Headquarters onsite at uncorkt at 240 Main St, Tech-Prize Headquarters, Racine, WI – Wisconsin 53403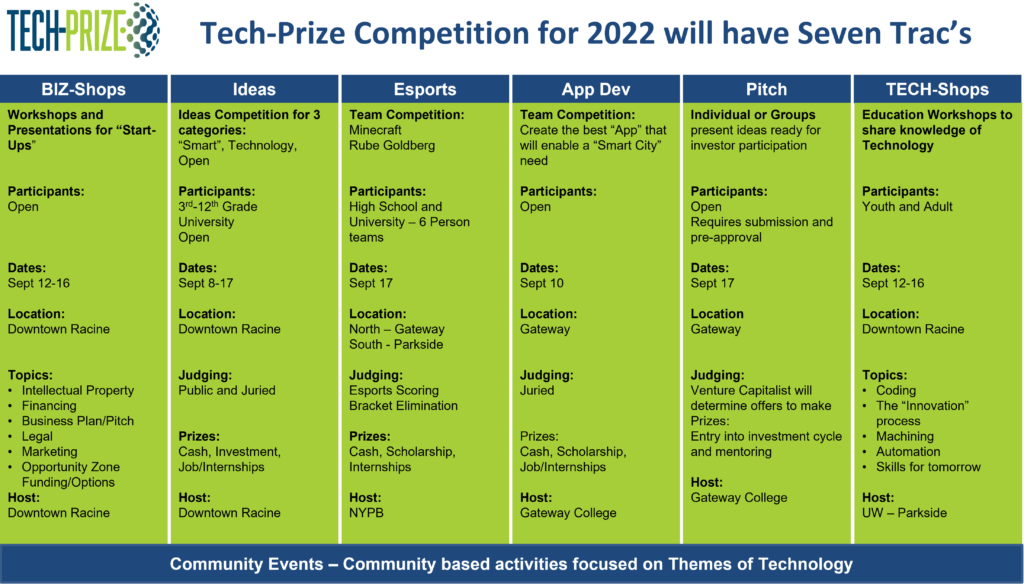 Learn More about the Tech-Prize 2022 Event Schedule!
Signups are NOW OPEN!
Starting from April 1st, 2022, all registration for the Tech-Prize events is now open and available.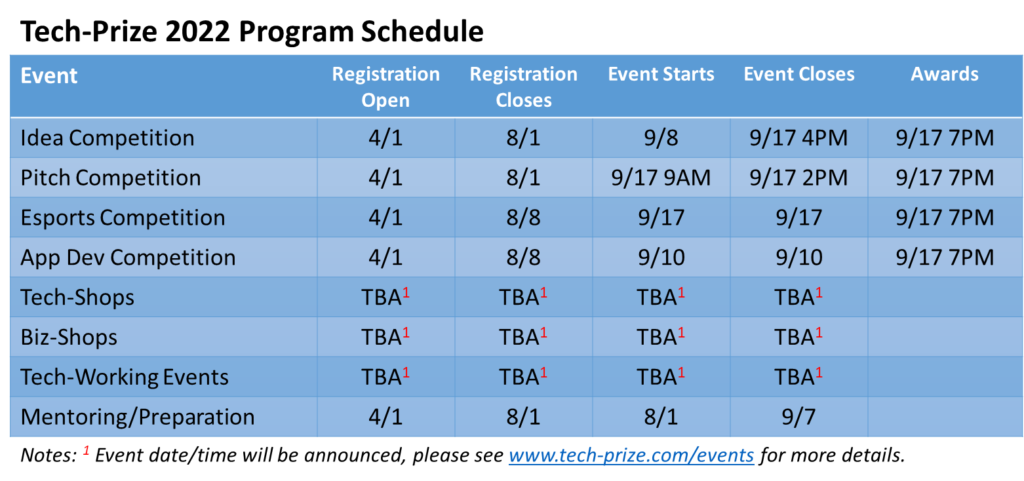 Follow these links to learn more:
Idea Competition Event Details & Registration
Pitch Competition Event Details & Registration
Esports Competition Event Details & Registration
App Dev Competition Event Details & Registration
Come, meet us at uncorkt, have a nice beverage, hear positive developments in our communities, connect with like-minded individuals with common goals, discuss ways we can all join together to make a difference, and reinvigorate the spirit of innovation in SE Wisconsin!  We believe that Tech-Prize is our communities 'Secret Sauce' to grow our community!  Please join us to celebrate one of the many positive entrepreneurial events happening in SE Wisconsin.
We're so excited to be part of this growing entrepreneurial environment finding traction in our communities. Our objective is to provide an environment that fosters innovation and entrepreneurialism in South-East Wisconsin and beyond!  Help us communicate what's happening by sharing Tech-Prize with everyone you know by sharing this event with your family and friends on LinkedIn and Facebook!
Event Page: https://www.facebook.com/TechPrizeOfficial/events