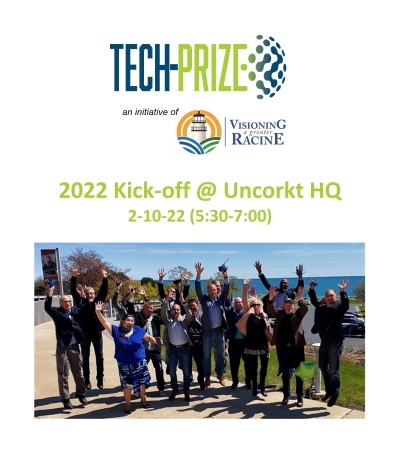 Tech-Prize 2022 Program Kickoff
Re: Tech-Prize – 2022 Kick-off
Date: Thursday, February 10, 5:30-7:00 (Formal comments: 6:00-6:30)
Location: Uncorkt – 240 Main Street, Racine WI 53403
Attendance both On-site and Virtual (Streaming on Facebook Live) is available.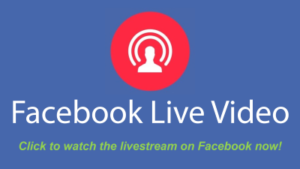 Event Page:
https://www.facebook.com/events/479459893695559
Live Event Link (will only be active when the event starts)
https://www.facebook.com/techprizeOfficial/live
Hello from the Tech-Prize Team,
The Tech-Prize team would like to invite you to the formal kick-off for the 2022 event season. The team had an outstanding inaugural year in 2021 and looks forward to building on that for 2022. There is an outstanding group of competitions and events planned for this fall and is excited to announce the addition of the eSports competition. Tech-Prize has four primary objectives that will be delivered through competition, training, and celebration events:
1) Create or find great Ideas
2) Enable a process that will launch those ideas right here in southeast Wisconsin
3) Enhance the skills required to make these things happen
4) Have a great time through the celebration of technologies and people
Kick-off Agenda:
• 5:30 – 6:00 Social Time – welcome, and sharing excitement for the future
• 6:00 – 6:30 Formal Comments for Tech-Prize Kick-off
• September 9-17, Downtown Racine
• Awards – Monument Square Stage, 2:00, Saturday, 9/17 (with Party on Pavement)
• 6:30 – 7:00 Social Time – open discussion regarding what is next, a celebration of the
community and how to get involved.
The 2021 competition series had several highlights. In the spring of 2021, the Tech-Prize Team just finished the inaugural Smart City, App Development Competition. It was an outstanding success. Participants came from 11 different countries and 13 states.
The fall session included the Idea Competition for earlier phase ideas, the Pitch competition for ideas ready to be funded and launched, and a Code-A-Thon, which was established to introduce and expand coding skills within the community.
There were $80,000 in cash and scholarship-based prizes awarded to all the competitors. Several of the business groups are now in their ramp-up cycle and have achieved expanded funding due to their engagement and performance in the competition.
Tech-Prize continues to offer both Tech-Shops and Biz-Shops to help communicate technical content required to enable innovation and the careers that support that. To date, 22 sessions have been developed and presented that covered the full range of innovation enabling skills. These will continue into 2022. All sessions were recorded and can be found at the Tech-Prize.org/events website.
The Tech-Prize process is designed to be that Loud, Proud, Fun engagement, that is so exciting that people cannot look away. We cannot tell you how excited we are with the opportunities in front of us.
We want to make sure we share a big "Thank You" for the sponsors and all involved to this point. By coming together, we will enable our future. This will happen through the excitement and involvement of each of us.
The entire competition and process exceeded expectations for this first year. We could not be more excited for what comes next.
We look forward to seeing you at the kick-off.
Here's to Innovation!
The Tech-Prize Team
Speaker
Jeff Daniel

MODERATOR: President, BlueFlux Power Products Group; Co-Chair Tech-Prize

As the President of the Blueflux Products group, he is responsible for the launch of a new generation of green, electrical energy creation systems.  This includes product design, manufacturing, launch, and distribution for North America and then globally Jeff recently left Johnson Controls to join this start-up.  In his last Johnson Controls role, he was the Vice President of Global Operational Excellence, he was responsible for the performance of 82 manufacturing facilities and the functional leadership for the required support organizations (Quality, Material Control, Continuous Improvement, Advanced Manufacturing, Johnson Controls Manufacturing System, Network Optimization and Organizational Health). Prior to this role, Jeff was the Vice President of Global Procurement, Operations, and Continuous Improvement as well.  Jeff started his career with Prince Corporation/JCI in Holland, Michigan upon completing his Bachelor of Science in Plastics Engineering degree, from Pittsburg State University.  Jeff has gained experience through progressive leadership roles with the company including: Advanced Manufacturing, Engineering, Product Development, Sales Operations, and Procurement.  Each of those experiences are now proving critical as he works to launch a global business that is designed to provide clean electrical energy and potentially change the world. Jeff lives in Racine, Wisconsin with his wife Jewell.  They have two daughters, Holly Daniel and Kelly Ritzmann, a son-in-law, Tom Ritzmann, and a new grandson, Dawson Ritzmann
Next Event
Date

May 28 2023

- Sep 27 2023