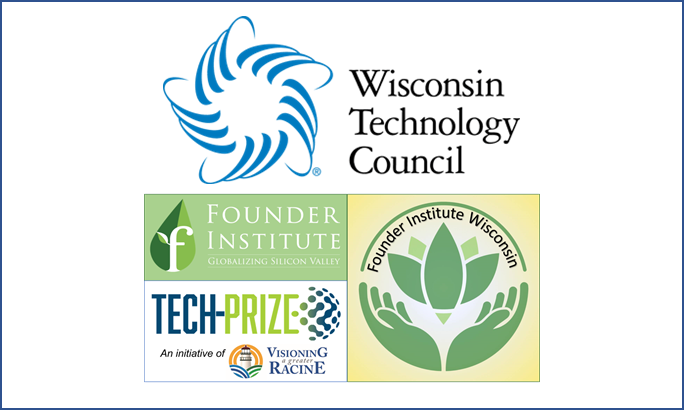 Meet the Wisconsin Startup Ecosystem w/Tom Still, President WI Tech Council
Re:  Tech-Prize – 2022  – Networking Event and Founder Institute Kick-off
Date:  Friday, September 16, 4:00-6:30 (Formal comments:  5:00-5:45)
Location:  Uncorkt – 240 Main Street, Racine WI 53403
Attendance: On-site & Virtual (Streaming on Facebook Live)
Hello from the Tech-Prize Team,
The Tech-Prize team would like to invite you to the Tech-Prize 2022 Networking event and the Kick-off for the Founder Institute Wisconsin, Accelerator.  This event is designed specifically to bring together the full community of Idea Creators, Investors, Sponsors, Mentors, and Civic, Education, and Business leadership.  We do this to create connections and make the Innovation Eco-System an outstanding culture and process in our community and region.  In addition to this, we will kick off the Founder Institute Wisconsin Accelerator process.  To help us with this task, we have a number of fantastic guest speakers that will offer their guidance, motivation, and plans for both our state and our local region.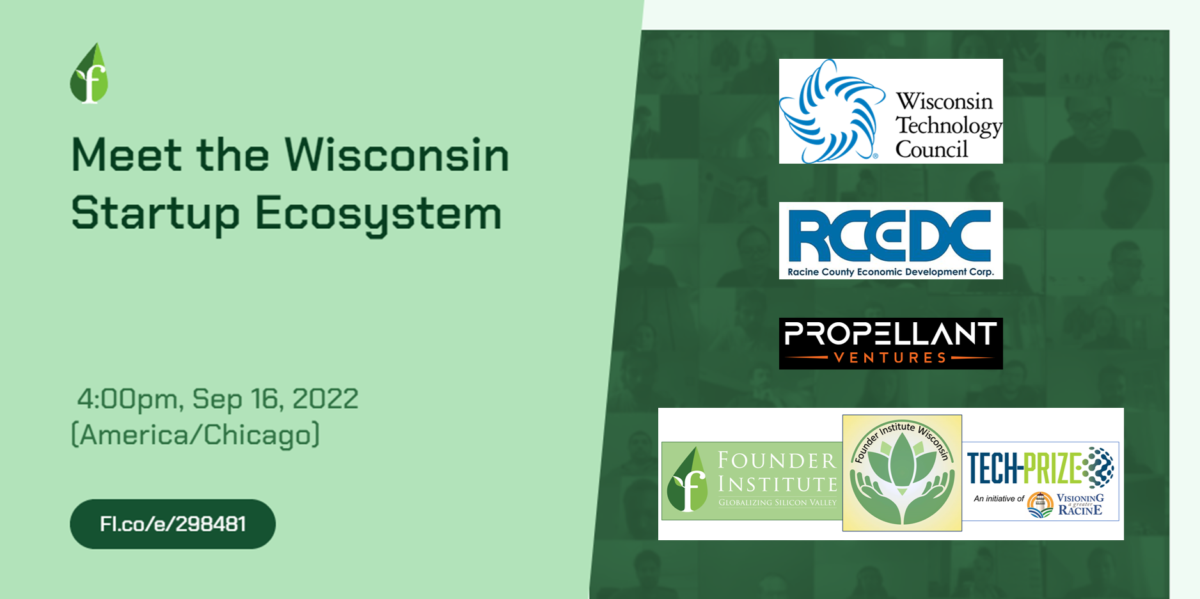 Agenda for the Event: 
4:00 – 5:00     Networking and Social Time – Meet your fellow entrepreneurs and the State of Wisconsin and South East Wisconsin, Innovation Eco-System
5:00 – 5:45     Formal Comments:

Welcome and Introduction –  Jeff Daniel and Tony Bigonia – Co-Chairs Tech-Prize and Co-Directors FI WI
Introduce FI WI and the FI Concept – Ryan Micheletti, Head of Global Operations, Founder Institute
How the Eco-System Works – Jason Jacobson, Director, Founder Institute Chicago, Principal, Propellant VC
Introduce our WI State, Entrepreneurial Start-Up Ecosystem – Tom Still, President, Wisconsin Technology Council and Laura Million – Racine Economic Development Corp
How to participate in the Ecosystem as a Partner – Jeff Hunter, Co-Director, FI WI
Q&A Session & Close: Jeff Daniel

5:45-7:00      Networking and Social Time – open discussion regarding what is next, a celebration of the community, and how to get involved
If you are participating virtually, your zoom invitation Link for remote viewers is:
https://us02web.zoom.us/j/86532901351?pwd=MkNvMFU5a2VLSXc3ZS9uanQ5UTh1dz09
IMPORTANT: Please reserve your in-person attendance as there is limited capacity.
Reserve my Seat!
We want to make sure we share a big "Thank You" for the sponsors and all involved to this point.  By coming together, we will enable our future.  This will happen through the excitement and involvement of each of us.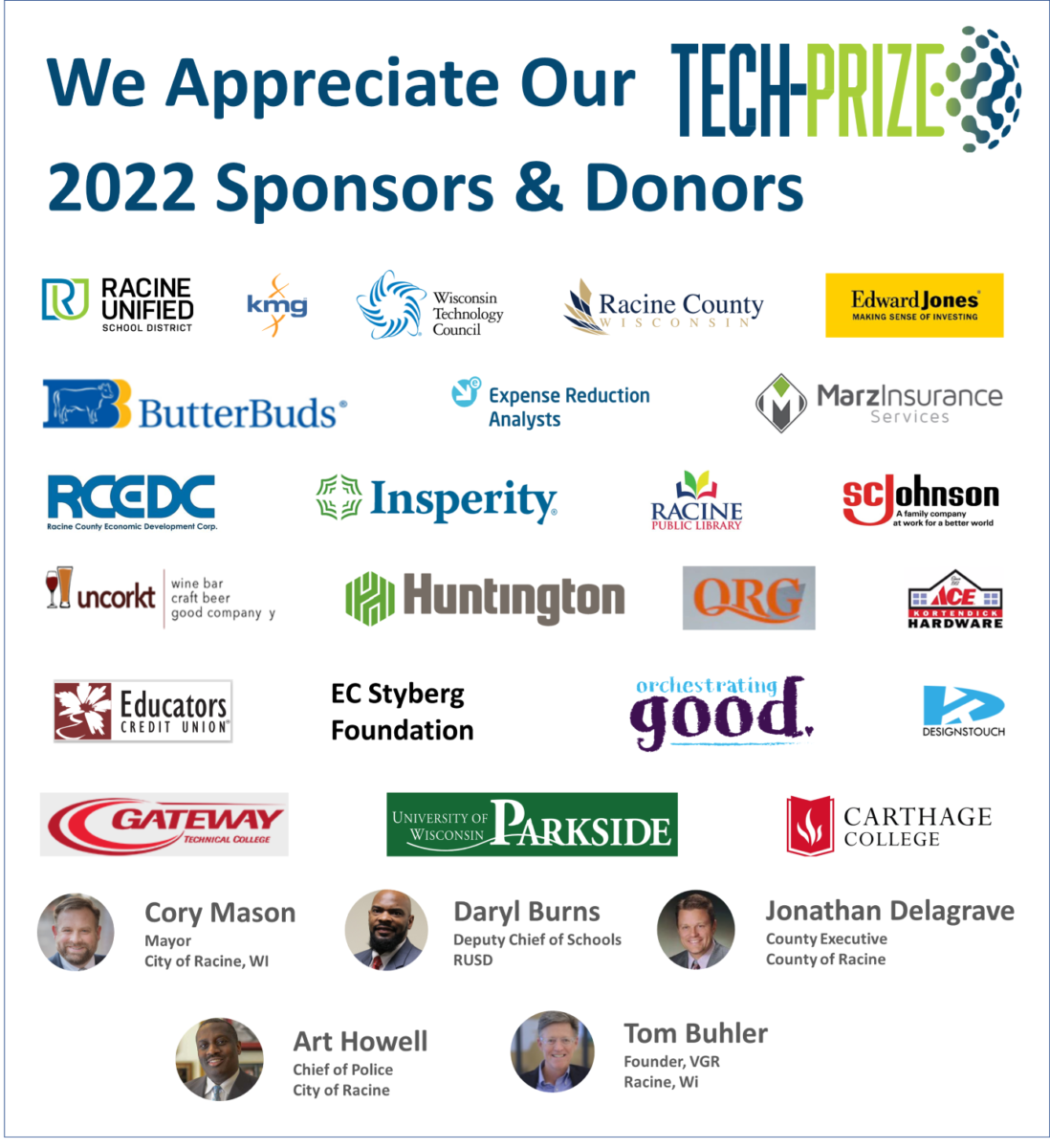 Speakers
Jeff Daniel

MODERATOR: President, BlueFlux Power Products Group; Co-Chair Tech-Prize

As the President of the Blueflux Products group, he is responsible for the launch of a new generation of green, electrical energy creation systems.  This includes product design, manufacturing, launch, and distribution for North America and then globally Jeff recently left Johnson Controls to join this start-up.  In his last Johnson Controls role, he was the Vice President of Global Operational Excellence, he was responsible for the performance of 82 manufacturing facilities and the functional leadership for the required support organizations (Quality, Material Control, Continuous Improvement, Advanced Manufacturing, Johnson Controls Manufacturing System, Network Optimization and Organizational Health). Prior to this role, Jeff was the Vice President of Global Procurement, Operations, and Continuous Improvement as well.  Jeff started his career with Prince Corporation/JCI in Holland, Michigan upon completing his Bachelor of Science in Plastics Engineering degree, from Pittsburg State University.  Jeff has gained experience through progressive leadership roles with the company including: Advanced Manufacturing, Engineering, Product Development, Sales Operations, and Procurement.  Each of those experiences are now proving critical as he works to launch a global business that is designed to provide clean electrical energy and potentially change the world. Jeff lives in Racine, Wisconsin with his wife Jewell.  They have two daughters, Holly Daniel and Kelly Ritzmann, a son-in-law, Tom Ritzmann, and a new grandson, Dawson Ritzmann

Jeffrey W. Hunter

Founder & Managing Partner

Jeff is the Founder and Managing Member of accessAmerica Group, a Wisconsin-based independent consulting and investment firm, where he has worked since April 2006. Mr. Hunter has experience in the Energy, Manufacturing, Insurance, Wireless, and Technical Services industries where he has built and led large teams, driving creative solutions.

Currently, Jeff is an executive in two greenfield startup companies. One is a high-tech manufacturer of mobile devices (CIO) and the other is a high-tech manufacturer of renewable/green energy generation systems (VP Field Service).

Previously, he was a CIO for a division of The Hartford focused on non-standard auto insurance; and has held various executive and management positions in both large corporate and startup companies including Deere and Co, Baxter/Allegiance Healthcare, BellSouth Wireless Data, Sears Business Systems, Inacom, Deposit Waiver Solutions, Green Global Power, Solar Motor Systems, Kissangen, CCIDP, and Clientsoft.
Next Event
Date

Jun 10 2023

- Oct 10 2023