Kenosha Innovation Neighborhood Information Session
Date: Monday, March 7th, 2022, 6:30-8:00PM CST
Location:
Onsite at

uncorkt

at 240 Main St, Tech-Prize Headquarters, Racine, WI – Wisconsin 53403
Virtual via Facebook Live:  https://www.facebook.com/TechPrizeOfficial
Please join us to celebrate one of the many positive entrepreneurial events happening in SE Wisconsin.
Phil Hockberger from the Waymaker Group will be presenting the overview of the full KIN plan for Kenosha and the benefits for our region.  This will include land development, an innovation center, and alignment with an outstanding Innovation mentoring group, called Gener8tor. Tech-Prize will be hosting this presentation as part of our ongoing series and efforts to enable entrepreneurialism.  We would love to see you at Uncorkt on Monday, 3/7.  Social time will start at 6:30.  Formal comments will start at 6:45.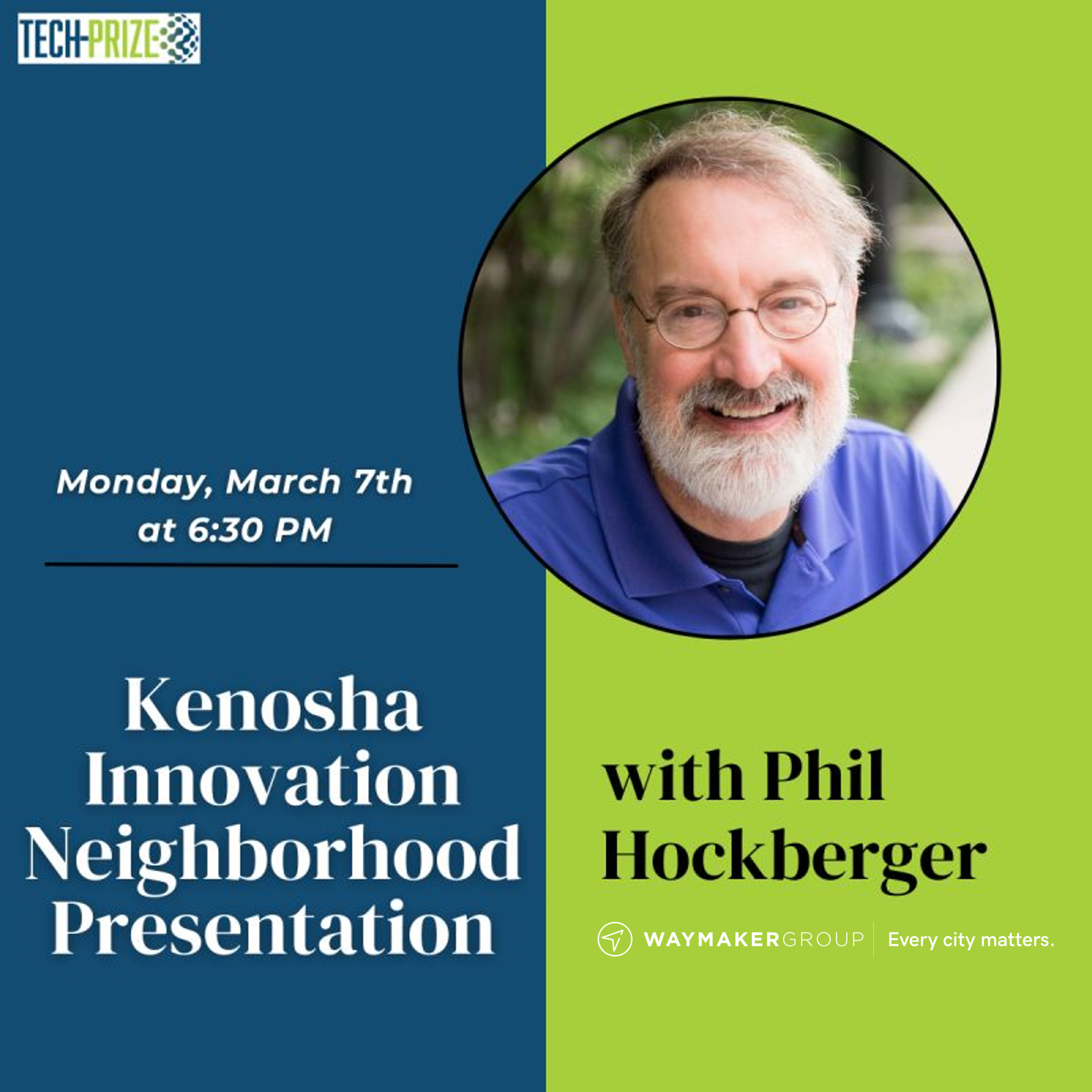 For those unaware, the back story on the KIN project starts with the common idea that entrepreneurship is hard. The obstacles and setbacks along the path to success are really opportunities for growth. But let's face it: it's easy to falter or feel alone as you face the challenges. It is Tech-Prizes' mission to help entrepreneurs stay enthusiastic and find success. It is how entrepreneurs process and move past discouragements and setbacks that matters most – perseverance is the key. Having someone walking with you through that journey makes the difference. Access to resources that help empower the entrepreneur to build the path forward is our mission. The Kenosha Innovation Neighborhood and this event are some of those resources to help.
Kenosha has seen its share of challenges in the unrest from last year. However, Kenosha is springing back from that unrest in a way that stands to benefit all of SE Wisconsin. The project will transform the recently remediated 107 acres in uptown Kenosha, restoring the barren brownfield that was the old Chrysler Motors Engine Plant. The Kenosha Innovation Neighborhood will become a hub of entrepreneurial activity, presenced by four regional colleges; housing; green space; new streets, and more between 52nd and 60th streets east of 30th Avenue.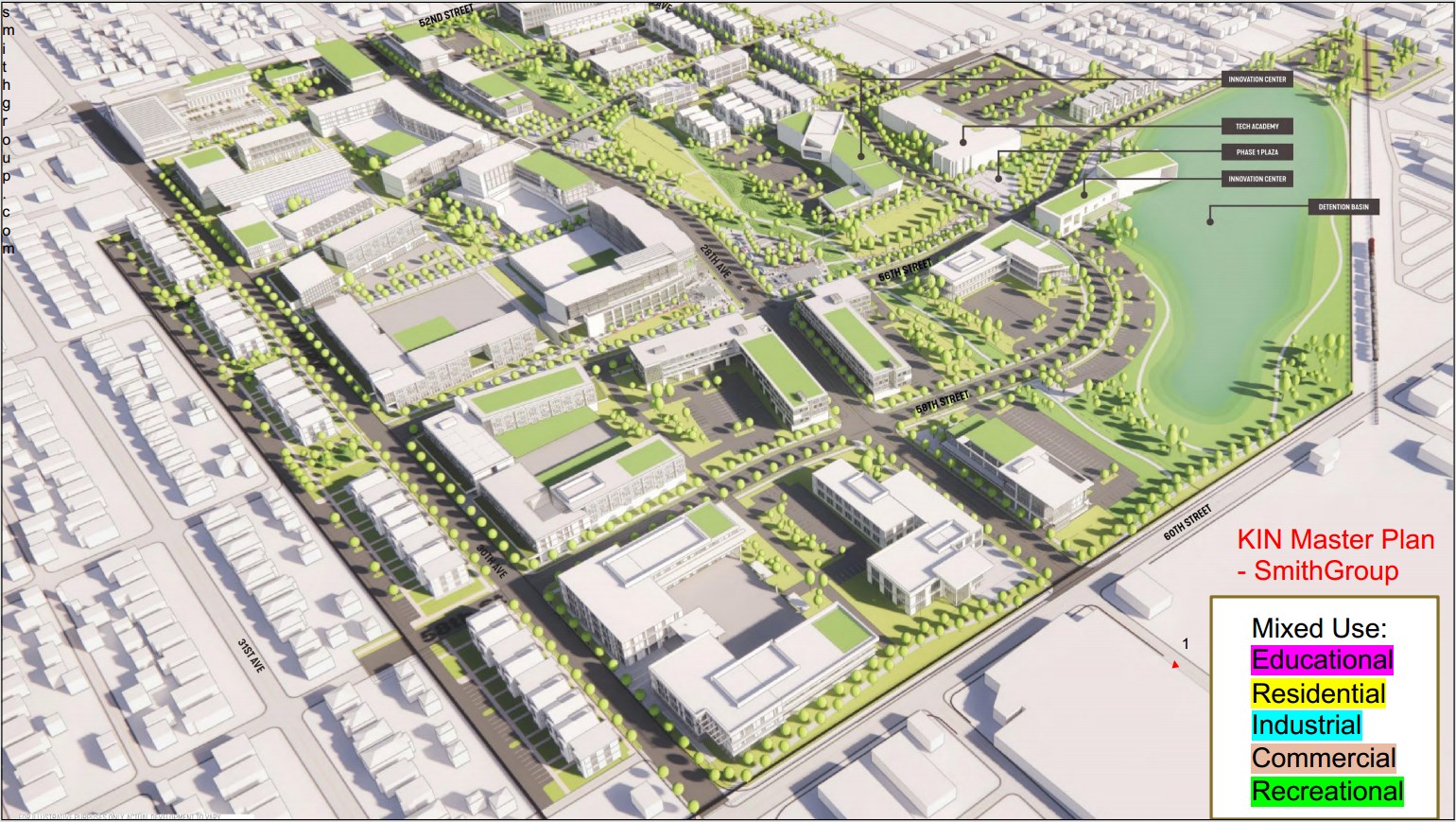 This event is the first in an ongoing series for 2022 hosted by Tech-Prize called the Tech-Time series where we discuss entrepreneurial projects in the area. The vision of these spotlights is to grow awareness of the many positive things happening in SE Wisconsin related to innovation. Our mission in this effort is to bring together the many entrepreneurial support organizations in SE Wisconsin in a way that grows our community's ability to grow innovation by raising awareness, bringing the entire community together, and coordinating the many resources available.
There are many efforts in all our communities in SE Wisconsin working hard to create a positive environment, tools, and resources available to entrepreneurs. Our goal is to bring all these resources together in a cohesive and well-coordinated community of entrepreneurialism that works together to leverage our limited resources to achieve the greatest possible benefit to our communities. Tech-Prize fully supports these efforts as we all work together to resurrect SE Wisconsin as the Entrepreneurial Capital it should be.
The presentation on Tuesday will be an information session designed to communicate the status of the Kenosha Innovation Neighborhood project in Kenosha. Please come, get some updates, connect with like-minded individuals and let us all work together to reinvigorate the spirit of innovation in SE Wisconsin.
We're so excited to be part of this growing entrepreneurial environment finding traction in our communities. Our objective is to help communicate what's happening giving us all the opportunity to coordinate and press forward as a unified group of concerned citizens with the desire to improve our community.
Come, meet us at uncorkt, have a nice beverage, hear positive developments in our communities, meet people with common goals, discuss ways we can all join together to make a difference!
Let's make this happen! Look forward to meeting with you!
Event Page:
https://www.facebook.com/events/2536413366495593
Live Event Link (will only be active when the event starts)
https://www.facebook.com/TechPrizeOfficial
Speaker
Phil Hockberger PHD

Dr. Hockberger is an experienced scientist, teacher, speaker, and administrator. He has held numerous leadership roles at Northwestern University since joining the faculty in 1987. He's an internationally recognized scholar with expertise spanning several scientific disciplines including cellular neuroscience, membrane biophysics, and signal transduction, cell adhesion and cell migration, photobiology, and phototoxicity. He has been a visiting research scholar at the Max Planck Institute in Germany and at Oxford University in the United Kingdom. In the past decade, he's been recognized internationally for his leadership role in research (core) facilities and for creating a new career path for core scientists. For his contributions to this field, he was awarded the ABRF President's Special Recognition Award in 2017. In 2019, he initiated a consulting service to help city leaders and local stakeholders build innovation-based economies.

Currently, Dr. Hockberger splits his time between academic activities and consulting services for Waymaker Group. His academic activities include a leadership role in Northwestern University's Clinical and Translational Sciences (NUCATS) Institute, whose mission is to provide scientists with consultative resources and expertise to accelerate transformative scientific discoveries to increase the quality, safety, efficiency, and speed of innovative clinical and translational research. Waymaker Group helps visionary leaders in middle-tier markets build inclusive, innovation-driven economic development strategies. Dr. Hockberger leads Waymaker's higher education practice and is actively involved in the Kenosha Innovation Neighborhood project in Kenosha WI, and in developing research facilities for life sciences and healthcare companies in Chicago.

Currently, Dr. Hockberger is co-chair of Euro-BioImaging, a consortium of European research facilities specializing in imaging-based technologies in the life sciences. He is also chair of the Chicago Biomedical Innovation Alliance, a consortium of Chicago non-profit organizations dedicated to accelerating transformative scientific discoveries to improve global healthcare. He's a member of the City of Chicago's Life Sciences and Healthcare Working Group, FASEB's Task Force on Shared Research Resources, and NSF's National Visiting Committee that provides oversight and advice regarding its Advanced Technology Education program serving community colleges.

Dr. Hockberger earned his Bachelor's degree in Chemistry from Western Illinois University, and his Ph.D. degree in Neuroscience from the University of Illinois at Urbana-Champaign. He did postdoctoral research at AT&T Bell Laboratories in Murray Hill, NJ.
Next Event
Date

Jun 10 2023

- Oct 10 2023