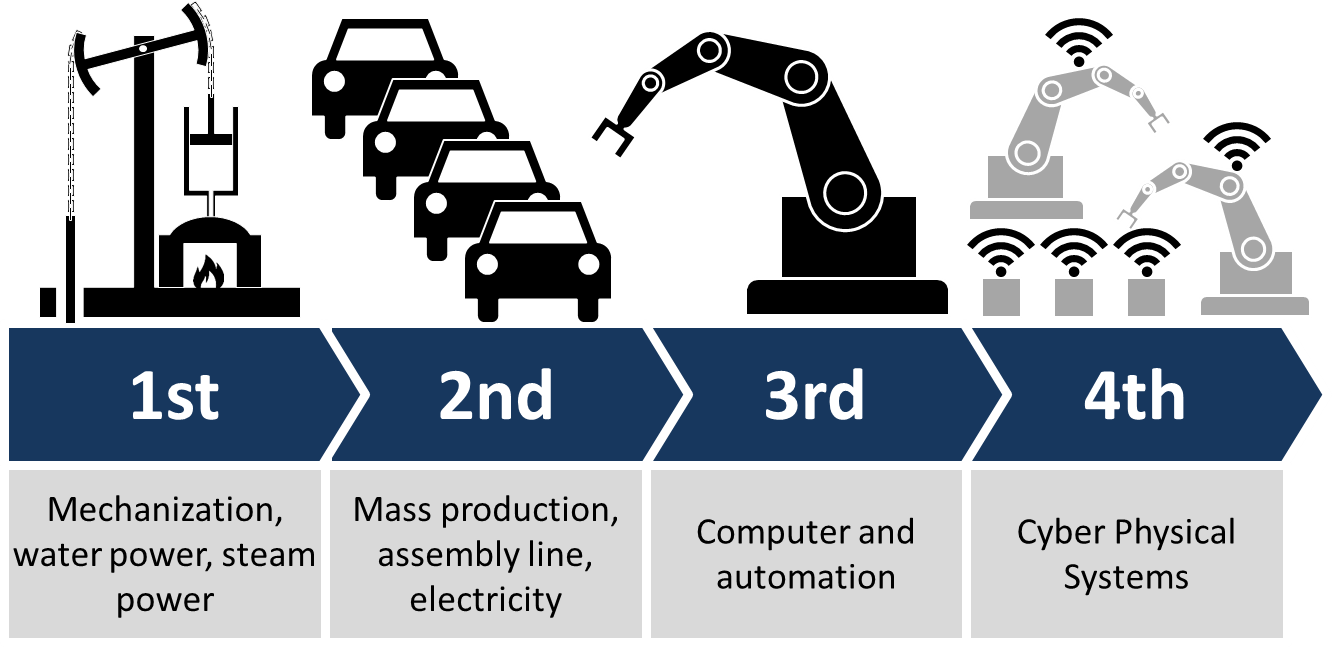 Introduction to Industry 4.0
 Industry 4.0 is the name given to the current phase of the industrial revolution. It is the integration of smart digital technology and manufacturing and places an emphasis on automation, machine learning, and real-time data. In the panel discussion, our experts in simple terms will explain the concepts of  Industry 4.0 and why one should learn more about it.
Moderated by Ray Koukari
Thoughts from the Panel Members
Speakers
Jeff Daniel

MODERATOR: President, BlueFlux Power Products Group; Co-Chair Tech-Prize

As the President of the Blueflux Products group, he is responsible for the launch of a new generation of green, electrical energy creation systems.  This includes product design, manufacturing, launch, and distribution for North America and then globally Jeff recently left Johnson Controls to join this start-up.  In his last Johnson Controls role, he was the Vice President of Global Operational Excellence, he was responsible for the performance of 82 manufacturing facilities and the functional leadership for the required support organizations (Quality, Material Control, Continuous Improvement, Advanced Manufacturing, Johnson Controls Manufacturing System, Network Optimization and Organizational Health). Prior to this role, Jeff was the Vice President of Global Procurement, Operations, and Continuous Improvement as well.  Jeff started his career with Prince Corporation/JCI in Holland, Michigan upon completing his Bachelor of Science in Plastics Engineering degree, from Pittsburg State University.  Jeff has gained experience through progressive leadership roles with the company including: Advanced Manufacturing, Engineering, Product Development, Sales Operations, and Procurement.  Each of those experiences are now proving critical as he works to launch a global business that is designed to provide clean electrical energy and potentially change the world. Jeff lives in Racine, Wisconsin with his wife Jewell.  They have two daughters, Holly Daniel and Kelly Ritzmann, a son-in-law, Tom Ritzmann, and a new grandson, Dawson Ritzmann

Matthew Kirchner

President of ATS/LAB Midwest; Host of The TechEd Podcast

(pronounced "Kirk-ner") is an international speaker, author, and podcast host on topics of interest to educators, public policymakers, and private employers. On a mission to secure the American Dream for the next generation of STEM and Workforce talent, Kirchner hosts the weekly TechEd PodcastTM, featuring leaders in industry and education, and serves as President of ATS/LAB Midwest, the leading distributor of world-class curriculum, eLearning, and training equipment. Kirchner writes monthly leadership columns appearing in Products Finishing and Production Machining magazines and is the author of "Teaching the Industrial Internet of Things: Preparing Students and Learners for Industry 4.0." Previously Kirchner led three world-class manufacturing companies during a 20+ career as an industrial CEO. He and his partners sold their last company, American Finishing Resources, to DuBois Chemicals in 2014. Kirchner serves on the boards of directors of several American companies and among his many volunteer activities, he is First-Past President of the Education Dealers Association and holds a seat on the board of the Smart Automation Certification Alliance. He is a graduate of the Marquette University School of Business.

Peggy James - UWP

Dean, College of Social Sciences and Professional Studies

Is an experienced Dean with a demonstrated history of working in the higher education industry. Skilled in Lecturing, Academic Advising, Public Speaking, and Curriculum Development. Peggy is a strong professional with a Master of Arts (MA) focused in Political Science and Government from Marquette University, and a PhD in Political Science from the University of Wisconsin-Milwaukee. Recent successes include leadership in the development of Parkside Access to College Credits, a concurrent enrollment program in southeast Wisconsin, the development of a Masters of Arts in Applied Professional Studies, and an institutional objective to become a Hispanic Serving Institution. Peggy Leads the Smart City Policy and Civic Partnerships programs.
Next Event
Date

Mar 30 2023

- Jul 01 2023