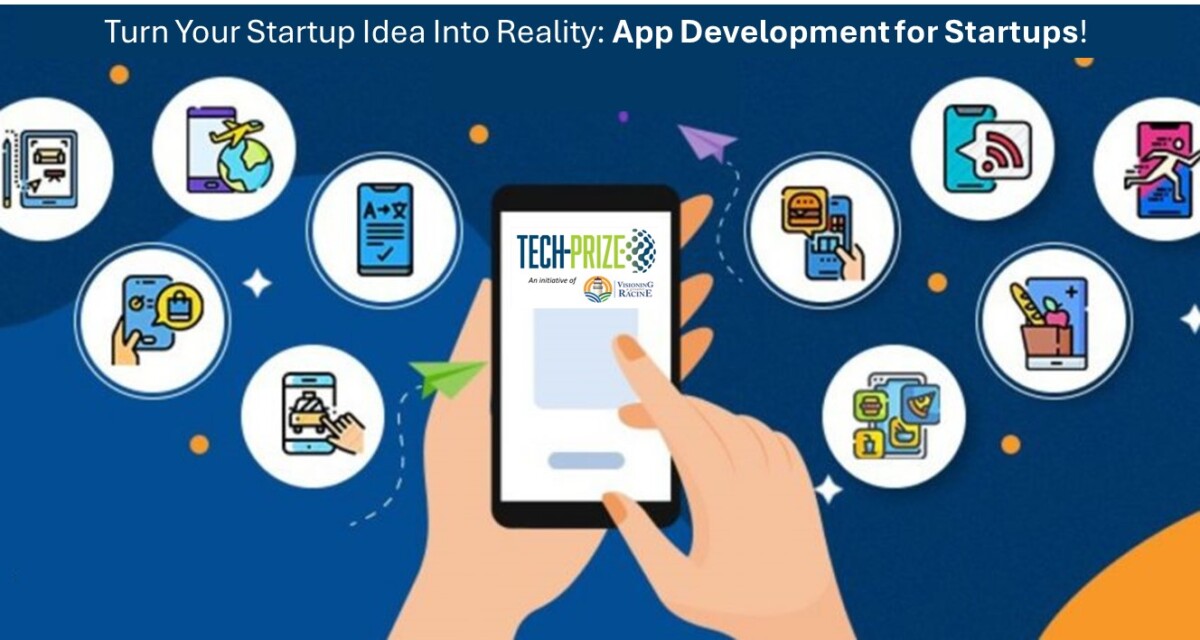 ** RESCHEDULED EVENT** Founder Night Out Series – App Development Strategies
Re:  Tech-Prize – 2023  – Founder Night Out Series – App Development Strategies!
Date:  Wednesday, Auust 16, 6:00-8:00 pm (Program starts at 6:30pm)
Location:  Uncorkt – 240 Main Street, Racine WI 53403
Attendance: On-site / In Person Only
Hello from the Tech-Prize Team!
Are you an aspiring entrepreneur with a brilliant idea for an app, but unsure about how to turn that idea into reality? Join us for an enlightening discussion led by Jim Delong, a seasoned technologist, professor, and successful entrepreneur. In this event, Jim will guide you through the essential steps and considerations necessary to transform your app idea into a tangible and marketable product.
Event Description: The event will delve into the following key aspects of app creation:
Understanding the Language and Programming: Jim will provide insights into the various programming languages commonly used in app development. Whether you have a technical background or not, he will break down the jargon, making it accessible and comprehensible to everyone.
Navigating the App Development Process: Learn the crucial steps involved in the app development process, from conceptualization to launch. Jim will highlight the key milestones, enabling you to plan your app's journey effectively.
Choosing the Right App Developers: Finding the right team of developers can significantly impact the success of your app. Jim will share valuable tips on what to look for when selecting app development professionals and how to ensure a fruitful collaboration.
Estimating Timeframes and Costs: Understanding the time and financial investment required for app development is vital for planning and budgeting. Jim will discuss the factors that influence costs and provide guidance on setting realistic timelines.
Bridging the Gap from Idea to Result: Many aspiring entrepreneurs face the challenge of turning their ideas into functional apps. This discussion will focus on overcoming common hurdles and turning your vision into a tangible product.
---
Who Should Attend:
Aspiring entrepreneurs with innovative app ideas
Tech enthusiasts interested in app development
Anyone curious about the app creation process
---
Join us for an interactive and informative session to empower you to bring your app idea to life. Jim Delong's vast experience as a technologist and entrepreneur makes him the perfect guide to lead you on this journey from an "Idea" to a "Result." Don't miss this opportunity to take the first step toward making your app dreams a reality!
Registration: Secure your spot by registering at [Registration Link]. Limited seats are available, so act fast!
About the Speaker: Jim Delong is a renowned lifelong technologist, distinguished professor, and highly successful entrepreneur. With years of experience in the tech industry, he has created his own apps and mentored numerous startups in their app development journeys. His passion for innovation and expertise in the field makes him an ideal mentor for aspiring entrepreneurs.
Note: Beverages and networking opportunities will be available before and after the event. Bring your questions and enthusiasm, and get ready to unlock the secrets of app creation! We look forward to seeing you there.
Remember, the path from an "Idea" to a "Result" begins with knowledge and action. Let Jim Delong's guidance steer you toward app development success. See you at the event!
We want to make sure we share a big "Thank You" for the sponsors and all involved to this point.  By coming together, we will enable our future.  This will happen through the excitement and involvement of each of us.
Speakers
Jeff Daniel

MODERATOR: President, BlueFlux Power Products Group; Co-Chair Tech-Prize

As the President of the Blueflux Products group, he is responsible for the launch of a new generation of green, electrical energy creation systems.  This includes product design, manufacturing, launch, and distribution for North America and then globally Jeff recently left Johnson Controls to join this start-up.  In his last Johnson Controls role, he was the Vice President of Global Operational Excellence, he was responsible for the performance of 82 manufacturing facilities and the functional leadership for the required support organizations (Quality, Material Control, Continuous Improvement, Advanced Manufacturing, Johnson Controls Manufacturing System, Network Optimization and Organizational Health). Prior to this role, Jeff was the Vice President of Global Procurement, Operations, and Continuous Improvement as well.  Jeff started his career with Prince Corporation/JCI in Holland, Michigan upon completing his Bachelor of Science in Plastics Engineering degree, from Pittsburg State University.  Jeff has gained experience through progressive leadership roles with the company including: Advanced Manufacturing, Engineering, Product Development, Sales Operations, and Procurement.  Each of those experiences are now proving critical as he works to launch a global business that is designed to provide clean electrical energy and potentially change the world. Jeff lives in Racine, Wisconsin with his wife Jewell.  They have two daughters, Holly Daniel and Kelly Ritzmann, a son-in-law, Tom Ritzmann, and a new grandson, Dawson Ritzmann

Jeffrey W. Hunter

Founder & Managing Partner

Jeff is the Founder and Managing Member of accessAmerica Group, a Wisconsin-based independent consulting and investment firm, where he has worked since April 2006. Mr. Hunter has experience in the Energy, Manufacturing, Insurance, Wireless, and Technical Services industries where he has built and led large teams, driving creative solutions.

Currently, Jeff is an executive in two greenfield startup companies. One is a high-tech manufacturer of mobile devices (CIO) and the other is a high-tech manufacturer of renewable/green energy generation systems (VP Field Service).

Previously, he was a CIO for a division of The Hartford focused on non-standard auto insurance; and has held various executive and management positions in both large corporate and startup companies including Deere and Co, Baxter/Allegiance Healthcare, BellSouth Wireless Data, Sears Business Systems, Inacom, Deposit Waiver Solutions, Green Global Power, Solar Motor Systems, Kissangen, CCIDP, and Clientsoft.