Computer Technology Career Overview
We are well into the information/digital age. Some call the current era the knowledge age. Certainly, computers impact almost every aspect of our lives. Manufacturing, for example, relies on data to monitor efficiency and quality. In addition, robotics and computer-based manufacturing equipment are prevalent on the manufacturing floor. Retail, travel, accounting, finance, marketing, sports, and art use computers to conduct business.
This change has significantly impacted jobs and has created new types of careers. In this panel, we will highlight career opportunities related to computing. Panelists with backgrounds in Information Systems and Computer Science will discuss their careers and careers at their respective companies. Not interested in the traditional Information Systems and Computer Science pathway? This panel will also explore other paths to a computer technology career including geographic information systems and user experience design.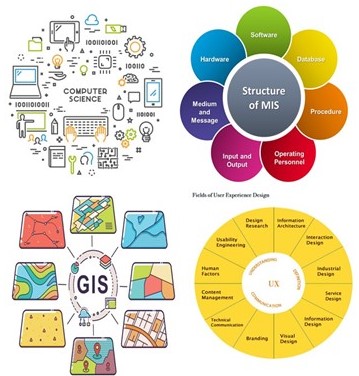 In this panel you will be introduced to careers in Software Engineering, IT support, Data Science, Geographic Information Systems, User Experience Design, Web Design, Mobile App Development, IT Security, Computer Administration, IT Project Management, IT Management, and Systems Analysis.
Event Page:
https://www.facebook.com/events/559298398815993?ref=newsfeed
Live Event Link (will only be active when the event starts)
https://www.facebook.com/techprizeracine/live
Some topics that will be covered include:
Structure of MIS
Fields of User Experience Design
Graphic Information Systems (GIS)
Computer Science
Q&A
The following individuals will take part in the panel discussion.
Dirk Baldwin (moderator) – Retired Dean of the College of Business, Economics, and Computing at UW-Parkside. Dr. Baldwin has a Ph.D. in Management Information Systems with a minor in Computer Science. He has extensive consulting experience and chaired the Information Technology Practice Center in SE Wisconsin.

Adam Fornal is the Director of Technology Customer Success at Northwestern Mutual.  He has more than 15 years of experience working in the Information Technology industry at small, midsize, and large corporations.  Adam is also a Lecturer teaching undergraduate and graduate courses at the Wisconsin Technical College System, University of Wisconsin – Parkside, and the University of Wisconsin – Extension.  Adam is a graduate of the University of Wisconsin – Parkside earning both his Bachelor of Science and Master of Business Administration degrees.

Thom Peer is the Senior Director of Technology at Target. Thom is an innovative leader with 20 years of technology and business experience. He has led numerous large scale initiatives implementing enterprise software solutions at fortune 50 organizations. His specialties include organizational and technical transformations, global team leadership, enterprise strategy, and agile product development. He is most passionate about developing and leading talented and diverse engineering teams which is the foundation for success. His bachelor's degree is from UW-Parkside.

Mariana Nelson is User Experience Designer for ATP. ATP is the leading provider of aviation software and information services, with over 7,500 customers in 137 countries. Mariana specializes in the design of user interfaces. She focuses on timeless design backed up by strategy and research that results in a humanizing approach to technology. Her style is modern, clean and, provides clear and slick usability. She currently resides in Florida and has degrees in graphic design from UW-Parkside.

Adrian Walton works for SSP Innovations in Mukwonago, WI as a Geographic Information Systems (GIS) Technician. SSP Innovations offers an array of consulting services including helping firms develop GIS applications. Many GIS prospects are in utility networking (gas, electricity, water, and fiber optics). GIS helps companies view utility networks, outages, and customer requests. Adrian works with individuals with geography backgrounds, as well computer science, interdisciplinary studies, engineering, and marketing. As a student at UW-Parkside, Adrian used GIS to map points of interest on the Root River Pathway in Racine.
Speakers
Adam Fornal

Director of Customer Success at Northwestern Mutual

Adam Fornal is the Director of Technology Customer Success at Northwestern Mutual.  He has more than 15 years of experience working in the Information Technology industry at small, midsize, and large corporations.  Adam is also a Lecturer teaching undergraduate and graduate courses at the Wisconsin Technical College System, University of Wisconsin – Parkside, and the University of Wisconsin – Extension.  Adam is a graduate of the University of Wisconsin – Parkside earning both his Bachelor of Science and Master of Business Administration degrees.

Adrian Walton

GIS Professional

Adrian Walton works for SSP Innovations in Mukwonago, WI as a Geographic Information Systems (GIS) Technician. SSP Innovations offers an array of consulting services including helping firms develop GIS applications. Many GIS prospects are in utility networking (gas, electricity, water, and fiber optics). GIS helps companies view utility networks, outages, and customer requests. Adrian works with individuals with geography backgrounds, as well computer science, interdisciplinary studies, engineering, and marketing. As a student at UW-Parkside, Adrian used GIS to map points of interest on the Root River Pathway in Racine.

Dirk Baldwin

Dean of the College of Business (Ret.)

Retired Dean of the College of Business, Economics, and Computing at the University of Wisconsin-Parkside. Dr. Baldwin has a Ph.D. in Management Information Systems, extensive consulting experience, and chaired the Information Technology Practice Center in SE Wisconsin. He will be moderating the panel.

Mariana Nelson

User Experience Designer for ATP

Mariana Nelson is User Experience Designer for ATP. ATP is the leading provider of aviation software and information services and a leading provider of aircraft maintenance tracking software, with over 7,500 customers in 137 countries. Mariana specializes in the design of user interfaces. She focuses on timeless design backed up by strategy and research that results in a humanizing approach to technology. Her style is modern, clean and, provides clear and slick usability. She currently resides in Florida and has degrees in graphic design from UW-Parkside.

Thom Peer

Senior Director of Technology at Target

Thom Peer is the Senior Director of Technology at Target. Thom is an innovative leader with 20 years of technology and business experience. He has led numerous large-scale initiatives implementing enterprise software solutions at fortune 50 organizations. His specialties include organizational and technical transformations, global team leadership, enterprise strategy, and agile product development. He is most passionate about developing and leading talented and diverse engineering teams which is the foundation for success. His bachelor's degree is from UW-Parkside. Learn more about Careers at Target:
https://corporate.target.com/careers/corporate/technology-data-sciences
Next Event
Date

Jun 10 2023

- Oct 10 2023